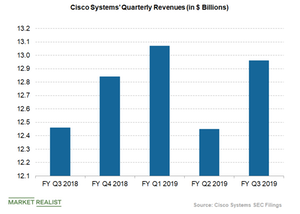 Why Isn't Cisco Sweating the US-China Trade Spat?
By Sophia Nicholson

May. 17 2019, Published 12:43 p.m. ET
US-China trade war
Last week, the United States raised tariffs on imported Chinese goods worth $200 billion to 25% from the 10% it had levied earlier. In response, China increased duties on $60 billion worth of US goods on May 13. President Donald Trump is concerned about Chinese trade practices, including intellectual property theft, nontariff barriers, and cyber theft.
Cisco Systems (CSCO) analysts were worried about the impact of the trade war on Cisco's traditional business of selling switches and routers because the company does some manufacturing in China.
Article continues below advertisement
Cisco's operations in China
According to Cisco's CFO, Kelly Kramer, the company doesn't have significant operations in China, so it has nothing to fear from the US-China trade war. Reportedly, ~3% of Cisco's overall revenue comes from China, as the company has reduced its exposure by changing its supply chain. The company has moved the manufacturing lines for some of its US-based products out of China, and it's also using substitutes for some parts. Cisco's revenue of $12.96 billion reflected a rise of 4% year-over-year in the third quarter of fiscal 2019.
Though some Cisco products will still be affected by the tariffs, the effects of the overall slowing of economic growth shouldn't be too severe for the company. In comparison, tech giants Apple, Intel, and Qualcomm, farm equipment giant Deere, and electric car maker Tesla are expected to see more drastic negative effects from the trade war between the two biggest economies in the world.