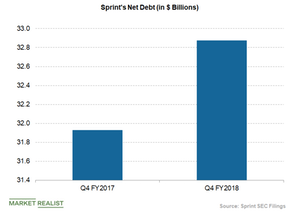 Why Is the Merger Deal Important for T-Mobile and Sprint?
By Sophia Nicholson

May. 24 2019, Published 1:29 p.m. ET
Merger deal
T-Mobile (TMUS) and Sprint (S), the third and the fourth largest US wireless carriers, agreed to merge in April 2018. The US antitrust regulators are currently reviewing the T-Mobile-Sprint merger and remain concerned that the merger will reduce the US wireless carriers to three from four.
Article continues below advertisement
T-Mobile and Sprint merger would create synergies
According to the companies, the potential merger would favor both the companies and help them to build a higher customer base and compete with bigger rivals like Verizon and AT&T. Notably, the companies are struggling to grow their customers, especially postpaid phone customers amid rising competition from the dominant telecom players and online streaming giants such as Netflix, Amazon, and Hulu.
The combined entity is also expected to boost cost synergies. Further, the merger would help Sprint to reduce its costs by eliminating duplicate work. T-Mobile will also take Sprint's high debt burden. At the end of the March ending quarter, Sprint's net debt increased ~3% year-over-year to $32.9 billion.
Further, the merger would help them to build the next generation of 5G wireless technology amid a robust nationwide network. Notably, the companies have told the regulators that they would not be able to compete in 5G technology as a standalone company. As a merged entity, the companies have promised the Federal Communications Commission that they would deploy a 5G network covering rural areas and would not raise its prices for the next three years.