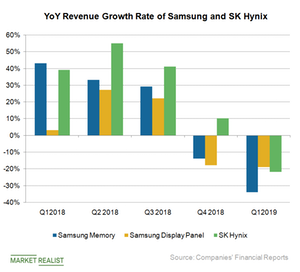 South Korea: US Ban on Huawei Could Hit Samsung and SK Hynix
By Puja Tayal

May. 31 2019, Published 2:15 p.m. ET
South Korea hit hard by the US-China trade war
The US-China trade war isn't benefitting either of the two countries, as the US's overall trade deficit remains the same. It has just shifted from China to other developing economies from where the United States is importing more goods in the wake of the trade war with China. China simply moved its factories to Vietnam in the wake of higher tariffs on Chinese exports to the United States.
However, the Huawei ban imposed by the United States is impacting countries like South Korea that depend on it for revenue. The United States has warned its allies to stop using Huawei technology in 5G (fifth generation) networks.
Article continues below advertisement
South Korea's exposure to Huawei
China is the largest export market for South Korea, accounting for 26.8% of its exports in 2018, according to data from the South Korean government. According to Huawei, it purchased $10.7 billion worth of goods from South Korea, which equates to 17% of the country's electronics component exports to China. If the United States asks South Korea to stop shipments to Huawei, it will come as a big blow to the Asian country.
On May 29, the iShares MSCI South Korea Index Fund (EWY) fell 10.7% month-to-date and 6.7% year-to-date.
Samsung, SK Hynix, and Huawei
South Korea is the world's biggest memory chip supplier as it houses the world's top memory chipmakers Samsung (SSNLF) and SK Hynix. Huawei is the biggest customer of both chipmakers. The memory industry is already in an oversupply situation that is driving down prices. Samsung's revenue from memory and display panel fell 34% and 19% YoY in the first quarter. SK Hynix's revenue fell 22% YoY in the first quarter.
If the above two companies stop supplying to Huawei, it will likely significantly impact its already declining revenue. Huawei is trying to strengthen its ties with South Korea by announcing plans to open a 5G (fifth generation) lab in the country.
South Korea is at the crossroads where it has to choose either the United States or China. Some experts believe that South Korea may not side with the United States, which accounts for 12% of its exports.