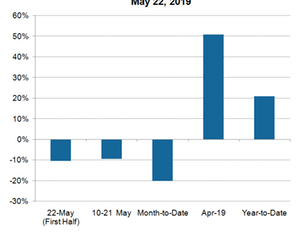 Ruling on FTC Lawsuit Favors Qualcomm's Competitors and Customers
By Puja Tayal

Updated
Qualcomm in a deep mess
A month ago, Qualcomm (QCOM) stock rose 50% between April 15 and April 22 after it reached a settlement with Apple in which the latter agreed to pay a lump-sum amount to the former and signed a six-year licensing deal and a multiyear supply agreement.
On May 10, macro headwinds kicked in as the US increased tariffs on $200 billion worth of Chinese imports and imposed a ban on Huawei. Qualcomm earns more than 10% of its revenue from Huawei. Qualcomm's stock fell 9.4% between May 10 and May 21. Amid the macro headwinds, District Court Judge Lucy Koh ruled in the US FTC's (Federal Trade Commission) favor. The FTC lawsuit was crucial for Qualcomm's business model, which depends on licensing for profits.
Judge Lucy Koh asked Qualcomm to adopt component-level licensing instead of device-level licensing, permanently disrupting its licensing model. The ruling also puts the company under seven years of monitoring by the FTC.
Article continues below advertisement
Ruling: Qualcomm disrupts competition
Judge Koh ruled that Qualcomm disrupted competition in the modem chip market by refusing to license SEPs (standard essential patents) to rivals and entering into an exclusive deal with large customers like Apple. Such practices hurt rivals, OEMs (original equipment manufacturers), and end consumers.
The ruling requires Qualcomm to license its SEPs to rivals on FRAND (fair, reasonable, and non-discriminatory) terms. It also requires Qualcomm to submit the new licensing deals to arbitral or judicial dispute resolution to determine whether the terms are FRAND. Moreover, Qualcomm cannot sign exclusive modem supply deals with customers.
What does the US FTC ruling mean to Qualcomm's competitors?
The above ruling will make the modem chip market more competitive as rivals MediaTek, Samsung, and Intel will be able to offer their modem chips to customers. Handset makers like Apple and Lenovo will be able to procure modems at a lower cost, which could help them lower their smartphone price.
However, the above ruling clouds Qualcomm's future earnings. The company earns a major portion of its revenue from smartphone chips, of which it earns 23% from licensing. It earns 56% of its operating income from licensing. It is unclear how the new ruling will impact Qualcomm's earnings.
Qualcomm has sought an immediate stay of Judge Koh's ruling and appealed at the United States Court of Appeals for the Ninth Circuit.
Check out all the data we have added to our quote pages. Now you can get a valuation snapshot, earnings and revenue estimates, and historical data as well as dividend info. Take a look!