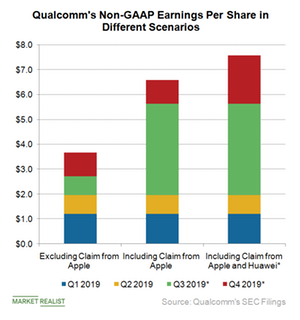 Qualcomm's 2019 EPS Target of $7.5 Looks Achievable
By Puja Tayal

May. 3 2019, Published 12:26 p.m. ET
Qualcomm slowly clears headwinds
Qualcomm (QCOM) is the world's largest smartphone chip supplier and a leader in the 5G space. The company has been dealing with several legal, regulatory, and macroeconomic headwinds for the last two years, with its biggest headwind being its licensing and patent dispute with Apple (AAPL).
In mid-April, Qualcomm reached a settlement with Apple, taking a major burden off its earnings. The chip supplier is also close to settling its dispute with Huawei, which is expected to provide it with another $1.5 billion in licensing revenue.
The above settlements will reduce Qualcomm's litigation expenses and improve its profit margins. The next major challenge for Qualcomm is weak smartphone demand, especially in China (FXI), from which it earns more than 50% of its revenue.
Article continues below advertisement
Qualcomm's earnings highlights
Qualcomm's fiscal 2019 second-quarter revenue fell 6.2% YoY (year-over-year) to $4.88 billion, beating analysts' estimate of $4.80 billion. Its revenue fell due to a 19.5% YoY fall in its chipset and licensing revenue. The company's mobile station modem chip shipments fell 17% YoY to 155 million, reflecting weak smartphone demand.
These YoY falls show overall demand weakness if we remove the effects of seasonality. According to the IDC, global smartphone shipments fell 6.6% YoY in the first quarter of 2019, their sixth consecutive fall. The report showed that only Huawei and Vivo had reported shipment growth at ~50% and 24%, respectively.
Qualcomm's fiscal 2019 second-quarter EPS fell 3.75% YoY to $0.77, beating analysts' estimate of $0.71. These earnings reflect Qualcomm's performance without Apple's contribution, but they include a $150 million payment from Huawei related to the companies' interim agreement.
Qualcomm's fiscal 2019 third-quarter guidance
An interesting aspect of Qualcomm's earnings results was its third-quarter guidance, which included the impact of its Apple settlement. As part of the settlement, Qualcomm will receive $4.5 billion–$4.7 billion in unpaid royalties from Apple, which is expected to increase its fiscal 2019 third-quarter generally accepted accounting principles revenue to $9.7 billion and its EPS to $3.67 at the midpoint.
This payment from Apple will help Qualcomm achieve the midpoint of its fiscal 2019 EPS target range of $6.75–$7.5. If the chip supplier settles its dispute with Huawei in the next six months, it could achieve the upper range of its EPS target.