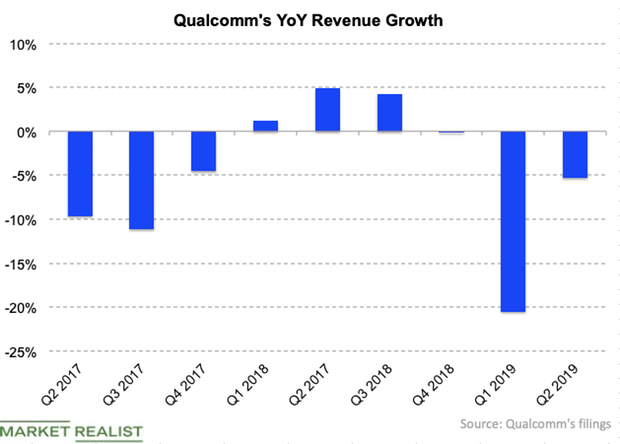 Qualcomm Stock Fell 11% after Federal Judge's Ruling
By Sanmit Amin

May. 23 2019, Published 2:40 p.m. ET
Qualcomm fell 11% after judge ruled that it violated antitrust law
Qualcomm (QCOM) stock fell 10.9% on May 22 and an additional 3.3% in after-hours trading on the same day after a federal judge ruled that the chip maker had illegally suppressed competition for wireless chips.
Judge Lucy Koh took the side of the Federal Trade Commission, which was pursuing an antitrust suit against the chip maker.
The ruling came as a huge blow to the company after its stock had risen over 55% between April 12 and May 3 following a big victory when Apple decided to call off its suit against it. The ruling means that Qualcomm's patent-licensing business, which is its biggest source of earnings, may be affected.
In fact, one of Apple's suits against Qualcomm was related to Qualcomm's charging an unfair amount through patents. The ruling could mean that Apple's costs will shrink slightly.
Article continues below advertisement
Qualcomm has run into antitrust problems in the past
Qualcomm has had antitrust issues in the past, with regulators from China, Taiwan, and South Korea having slapped a fine worth $1.92 billion in aggregate in the past for anticompetitive practices.
Meanwhile, Qualcomm's revenue continues to shrink. The chip maker generated revenue of $4.98 billion during the second quarter of fiscal 2019 (which ended in March 2019), a fall of 5.3% year-over-year. As the graph above shows, the company's growth has been affected in the past couple of years by its long legal battle with Apple, its biggest client. Apple's dropping the suit could help Qualcomm revert to growth going forward. However, the latest ruling could have an impact if the ruling takes effect.
Despite its slump on May 22, Qualcomm stock is still up 85% year-to-date.