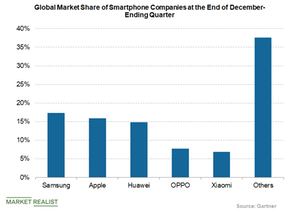 How Huawei Is Competing with Smartphone Rivals
By Sophia Nicholson

May. 21 2019, Published 5:49 p.m. ET
Huawei's growing momentum in the smartphone market
Chinese telecom giant Huawei has been gaining momentum in the global smartphone industry, with features such as AI, reverse wireless charging, and advanced cameras. Huawei's flagship models, the P30 Pro and the Mate 20 Pro, are popular. Huawei's revenue grew 39% YoY (year-over-year) in Q1 2019.
Article continues below advertisement
Huawei's share of the smartphone market
Huawei grabbed the second position in the global smartphone industry in Q1 2019, surpassing Apple (AAPL). Huawei is now racing to beat Samsung (SSNLF) in the smartphone market. Huawei Consumer Business Group CEO Richard Yu believes that Huawei has the potential to become the world's largest smartphone company in 2020.
Counterpoint reports that while Huawei's global market share increased YoY to 17% in Q1 2019 from 11%, Samsung's global smartphone shipment market share fell to 21% from 22%. In the first quarter, Huawei's worldwide shipments rose ~50% YoY to 59.1 million while Samsung's and Apple's fell 8% and 20% YoY, respectively.
Ban could dent Huawei's market share
The loss of access to Google's Android operating system and other technical support and services has significantly hurt Huawei's chance of becoming the world's top smartphone company. The ban is expected to impact its shipments internationally, especially in Europe (EFA), its second-biggest market. In India (INDA), Huawei and its sub-brand, Honor, hold just 4.5% of the market.
Although Huawei is reportedly building its own mobile phones and laptop operating systems and has been stockpiling chips from US suppliers for the last three months, the Chinese company could still need some products from US companies for its devices.