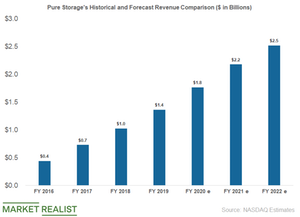 Here's What Could Drive Pure Storage's Revenue Higher
By Adam Rogers

May. 17 2019, Updated 11:08 a.m. ET
Robust portfolio of products
Pure Storage (PSTG) has been a disruptor in the global storage space. The company provides hybrid cloud offerings, and over 80% of system capacity now ships as NVM Express (or NVMe). Its focus on developing new products continues to increase the total available market (or TAM) for the company.
Pure Storage focuses on targeting key markets and high growth segments. International sales rose from 26% of total sales in fiscal 2018 to 28% of total sales. In the last fiscal year, Pure Storage launched its enterprise storage service, also known as ES2. This product is focused on enabling enterprises to have an on-premise cloud experience. The ES2 is a subscription-based product that will generate recurring revenue.
Pure Storage is confident about long-term revenue growth. Its new product and service offerings will help Pure Storage leverage its expertise to drive revenue growth.
Article continues below advertisement
Key drivers for revenue growth
Enterprises are looking for hybrid could solutions to move critical applications on an off the cloud with ease and flexibility. They also want to have these data services on-premise. Pure Storage's Cloud Data services run on Amazon Web Services and enable clients to do this.
Modern data-centric applications create demand for consolidated data architectures. Earlier this year, Pure Storage announced a direct flash fabric that the company claims will "revolutionize the way modern computing is deployed."
Pure Storage, like other companies, is also looking to leverage artificial intelligence and analytics technologies to broaden the accessibility of AI solutions in the global market. Pure Storage believes this market to be around $6 billion.
Driven by the introduction of new offerings, Pure Storage has managed to grow its total addressable market to $50 billion from $35 billion in just one year.
Revenue estimated to reach $2.51 billion in fiscal 2022
Pure Storage has managed to grow sales at a CAGR (compound annual growth rate) of 46% from $440 million in fiscal 2016 to $1.36 billion in 2022. Sales are estimated to grow by 23% annually to reach $2.51 billion in fiscal 2022.