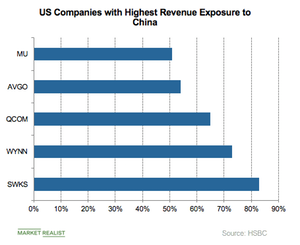 5G Takes Center Stage in US–China Trade War, Qualcomm at Risk
By Puja Tayal

Nov. 20 2020, Updated 1:20 p.m. ET
5G critical to national security
5G technology is the future of the data economy, destined to provide the communications network that will support technologies like driverless cars and AI. The US President Donald Trump deems 5G as critical to national security. In March 2018, he blocked Broadcom from acquiring Qualcomm (QCOM), a leader in 5G technology, as the former was based in Singapore.
Now, Trump has banned US firms from selling and transferring 5G-related technology to Huawei and its affiliates alleging that China is using Huawei for espionage. Huawei denied these claims and agreed to work with the US government to implement effective product security measures.
Article continues below advertisement
Impact on Huawei
Huawei uses Qualcomm's modems in its high-end smartphones and has been in settlement talks with the chip supplier over a licensing dispute. Tensions between the United States and Huawei could delay this licensing settlement, sending Qualcomm's stock down 4.4% on May 16.
Huawei relies on US firms for networking equipment and data center components. If the United States implements a complete ban, it will affect all Huawei products, including high-end smartphones, mobile infrastructure, data centers, and cloud services. The ban would also affect Huawei's global customers, especially European carriers.
The United States is forcing other countries to ban Huawei from 5G, which could slow 5G deployment in other countries, but some European countries refused.
Good news for Huawei's competitors
Huawei's competitors Nokia and Ericsson would stand to win from the above ban as the United States and its allies would resort to them for 5G deployment. Nokia's and Ericsson's stocks rose more than 4% and 2% in early trading on May 16.
The United States attacked China's largest telecom equipment maker Huawei. If China decides to retaliate, it could target chip giants like Qualcomm and Broadcom, which rely heavily on it for revenue, or tech giant Apple, which depends on them for iPhone manufacturing. The last time Qualcomm got caught up in the United States–China trade war, it withdrew from the NXP Semiconductors' acquisition.
Check out all the data we've added to our quote pages. Now you can get a valuation snapshot, earnings and revenue estimates, and historical data as well as dividend info. Take a look!