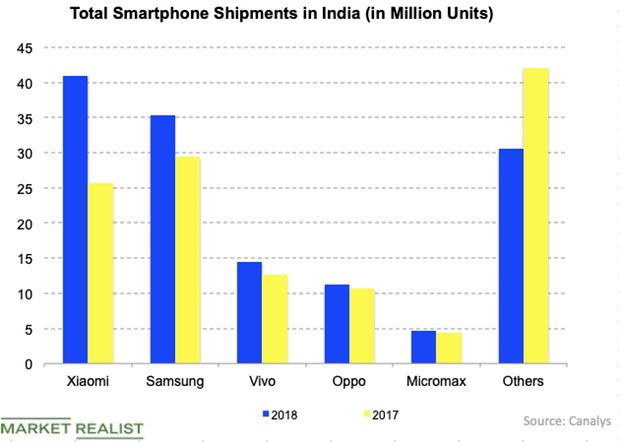 Will Apple's Price Cut in India Help Boost Sales?
Apple's iPhone XRs are available at a steep discount in India
Apple's (AAPL) revenue from the Greater China region fell over 26% YoY during the first quarter of 2019 (quarter ended December 2018). Apple responded by slashing prices on the latest flagship iPhone in China to help boost demand.
Meanwhile, the tech behemoth has been struggling to gain any meaningful market cap in India, a fast-growing smartphone market. A recent report from Bloomberg said that Apple's major supplier, Foxconn, could soon start testing iPhone production in India to avoid huge tariffs, which would mean lower prices in India. Apple just slashed prices on its cheaper flagship phone, the iPhone XR, which is available in the US at $749, by around 25%, as initially reported by the Economic Times. Apple also put huge advertisements in major newspapers in India, on Friday, April 5.
WAKE UP WITH BAGELS & STOX, OUR NEW EMAIL THAT ENTERTAINS AND INFORMS YOU BEFORE THE DAY STARTS. SIGN UP HERE!
Article continues below advertisement
Will the price cut help Apple gain more Indian users?
The Economic Times reported that the basic model of the iPhone XR will now be available at 59,900 rupees (or ~$860) compared to 76,900 rupees (or ~$1,115) earlier. Apple could also offer similar discounts on other models in India where iPhone prices are much higher due to huge import duties on luxury items, the depreciating rupee, and the lack of partnerships with carriers, which lead to lower prices in the US.
The cut might prompt some Indians to buy the iPhone XR at discounted prices. However, Apple's woes in India run deeper, as most people are poor and are put off by the lofty price tags of the iPhones. Indians have instead preferred cheaper smartphones made by Chinese vendors like Xiaomi (XIACF), Vivo, and Oppo.