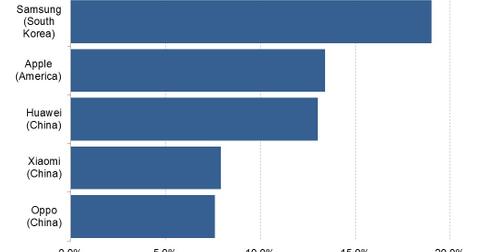 Why Is China Investigating Ericsson?
By Ruchi Gupta

Updated
Ericsson's patent business is under scrutiny in China
China is investigating Ericsson (ERIC) over a matter related to the company's patent-licensing business. According to Ericsson, China's market regulation agency opened a probe into its patent-licensing business after receiving complaints from unspecified entities. A report from the Wall Street Journal stated that the probe in China was focused on Ericsson's business of licensing patents to smartphone makers.
Article continues below advertisement
Ericsson holds a portfolio of patents that cover everything from base stations to smartphones. The company is in the race with the likes of Nokia (NOK) and Qualcomm (QCOM) to secure patent-licensing deals with 5G smartphone makers. Ericsson's patents for its 5G handsets can cost as much as $5 per device. Nokia and Qualcomm can charge as much as $3.5 per device and $16.25 per device for their 5G patents, respectively. Qualcomm recently mended fences with Apple, leading to Intel's (INTC) quitting the smartphone modem business.
Chinese companies dominate the smartphone market
China is home to some of the world's top smartphone companies. Chinese companies took up three spots on the list of the world's top smartphone companies in 2018, according to Gartner data. Huawei, a Chinese company, captured 13% of the global smartphone market in 2018, making it the world's third-largest smartphone company by device sales, according to data from Gartner. Samsung (SSNLF) and Apple ranked first and second with 19% and 13.4% market shares, respectively.
Some see a wider plot in China's probe
Some observers, as cited in the Wall Street Journal's report, view China's probe as a plot to put pressure on Ericsson so that it will reduce the cost of its patents for Chinese manufacturers.