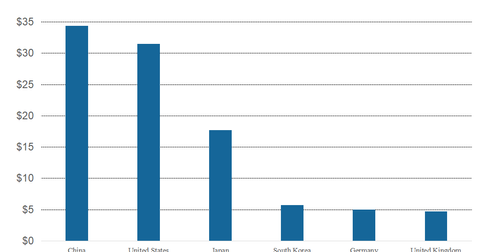 What Games Are Important for Take-Two's Revenue Growth?
By Adam Rogers

Apr. 15 2019, Published 2:08 p.m. ET
NBA 2K19
Take-Two Interactive (TTWO) will be banking on games such as Red Dead Redemption 2, NBA 2K19, and WWE 2K19 to drive sales in fiscal 2019 and beyond. Red Dead Redemption 2 has already sold 23 million copies within the first four months since launch.
TTWO's NBA 2K19 also outperformed expectations in the third quarter of fiscal 2019. Recurring consumer spending too were above management estimates in Q3. NPD Group stated that the NBA 2K19 was the best-selling sports title in the United States last year and was the third best selling game overall.
Article continues below advertisement
NBA 2K19 has now been the best-selling sports title for the third consecutive year. Online multiplayer games rose over 50% driven by NBA 2K19 in Q3 with a rise in daily active users. Take-Two claimed that with 12 million games on NBA 2K19 played daily, recurrent consumer spending rose over 30% in the third quarter.
Net bookings for NBA 2K Online rose over 100% in China (FXI). The registered users for NBA 2K in China stand at 43 million, and the game is the number one PC online sports game in that country. China is the largest gaming region globally.
WWE 2K19
TTWO's WWE 2K19 was launched last October and has been well received by players. TTWO is optimistic about the long-term popularity of this brand and expects to increase user engagement with various developments, innovations, and enhancements.
Recurrent spending in the third quarter rose 31% and accounted for 22% of total net bookings. Red Dead Redemption and NBA 2K were the major contributors to recurrent spending in Q3 2019.