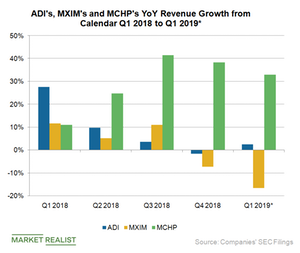 Weak Macro Environment Slows Analog Chip Sales in Q1
Analog chip suppliers
The semiconductor industry consists of analog, micro, logic, and memory chips, which are used inside every electronic device. Analog chips convert real-world signals into digital signals. As more and more devices go digital, the demand for analog increases. Texas Instruments (TXN) is a leader in the analog space. Some other analog and mixed-signal chip suppliers include Analog Devices (ADI), Maxim Integrated (MXIM), and Microchip (MCHP).
Article continues below advertisement
Analog chipmakers have exposure to almost all end markets including industrial, automotive, communications, and consumer. Their earnings are mostly stable and influenced by the macroeconomic environment. The US-China trade war reduced car and smartphone sales and slowed industrial activity, which impacted analog chip suppliers' earnings. However, increasing investment in 5G infrastructure boosted demand in the communication space.
ADI's, MXIM's, and MCHP's earnings guidance 
As seen from the above graph, analog chip makers reported YoY declines in the fourth quarter due to weak end-market demand. ADI's, MXIM's, and TXN's revenue fell 1.6%, 7.3%, and 12.7% YoY. However, Microchip reported double-digit YoY growth, as it integrated Microsemi, which it acquired in May 2018.
For the April 2019 quarter, ADI expects revenue to rise 2.5% YoY to $1.5 billion driven by strong double-digit YoY growth in the communications market, which is benefitting from early adoption of 5G. The strength in communications will more than offset weakness in industrial and automotive.
While ADI sees weakness in automotive, MXIM sees strength due to strong demand from battery management systems for electric vehicles and driver assistance content. Maxim's strength in automotive will likely be more than offset by weakness in data center, computing, and industrial. For the March 2019 quarter, MXIM expects revenue to fall 16.7% YoY to $540 million.
Both ADI and MXIM acknowledged that the number of vehicles sold is falling. However, the semiconductor content per vehicle is increasing, thus driving demand for automotive chips.
The long-term growth prospect is strong for the analog market as 5G will likely boost secular demand in embedded, industrial, and automotive space as analog will go inside every electronic device.
Check out all the data we have added to our quote pages. Now you can get a valuation snapshot, earnings and revenue estimates, and historical data as well as dividend info. Take a look!