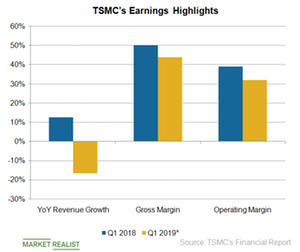 TSMC's Earnings to Bottom Out in Q1 before Returning to Growth
By Puja Tayal

Updated
TSMC's first-quarter revenue estimates
TSMC (TSM), the world's largest foundry, earns revenue by manufacturing chips for consumer electronics, such as PCs, smartphones, and game consoles, on its manufacturing nodes.
The foundry's broad exposure to most end markets makes its earnings a barometer with which we can gauge the semiconductor industry's future performance.
WAKE UP WITH BAGELS & STOX, OUR NEW EMAIL THAT ENTERTAINS AND INFORMS YOU BEFORE THE DAY STARTS. SIGN UP HERE!
Article continues below advertisement
TSMC's first half is usually weaker than its second half, which includes the holiday season. However, the foundry lowered its first-quarter earnings guidance by more than the normal seasonal decline amid falling demand for Apple's (AAPL) iPhones, a weak macroeconomic outlook, and NVIDIA's (NVDA) high graphics processing unit supply chain inventory.
TSMC expects its revenue to fall 25% sequentially and 16.7% YoY (year-over-year) to $7.05 billion in the first quarter, a level that was last seen before the cryptocurrency boom in early 2017. It expects its gross and operating margins to contract to 42% and 30%, respectively, in the quarter, the lowest levels in more than three years. Its profit margins have been hit by lower capacity utilization and high costs.
TSMC is set to report weaker-than-expected first-quarter earnings, which hints at weaker-than-expected earnings for Apple, NVIDIA, and many more chip makers.
TSMC's second-quarter guidance
More than these companies' earnings, investors should consider their guidances. Citing industry sources, a DigiTimes report stated that the capacity utilization of TSMC's 7 nm (nanometer) process node could bottom out in the first quarter before growing in the second quarter. The sources stated that the foundry could see an increase in demand for its 7 nm chips in the second quarter as Advanced Micro Devices (AMD) and Huawei's HiSilicon boost the production of their 7 nm chips and Android smartphone makers increase production.
The sources expect TSMC's 7 nm node to run at full capacity in the third quarter driven by volume orders from Apple for iPhone components. TSMC will benefit the most from the launch of new-generation 7 nm central processing units, graphics processing units, server chips, and AI-related chips throughout the year.
The DigiTimes report hints that TSMC's earnings will bottom out in the first quarter and gradually increase in the second quarter followed by strong growth in the third quarter. This estimate means the stock is likely to rise after the company releases its first-quarter earnings results on April 18. It rose 11% in the first quarter.