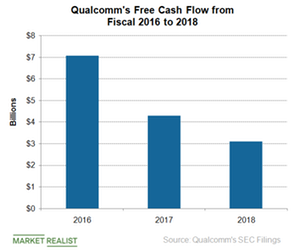 The Stakes Are High for Qualcomm and Apple in Licensing Lawsuit
By Puja Tayal

Updated
What's at stake?
The two-year Apple-Qualcomm (AAPL) (QCOM) licensing lawsuit has finally gone to trial, as the two parties aren't ready to settle. The outcome of this lawsuit will have a significant impact on both companies.
If Apple wins the case, Qualcomm's licensing business will be at stake. The chip supplier will have to repay the licensing fee Apple claims it overpaid. Such a ruling could encourage other licensing customers to force Qualcomm to adopt component-level licensing instead of device-level licensing. Because Qualcomm earns 64% of its operating income from licensing, the lawsuit could significantly affect its profits. However, it would make licensing cheaper for the entire smartphone industry.
Article continues below advertisement
The negative impact of the ongoing Qualcomm-Apple battle
The ongoing dispute between Qualcomm and Apple, which began in January 2017 and spread across the globe in the form of patent lawsuits, has already cost the companies a large sum in the last two years.
Apple
Apple stopped using Qualcomm's modems during the dispute, which made the iPhone maker dependent on Intel's (INTC) modems. Production delays in Intel's 5G modems could delay Apple's 5G iPhones beyond 2020, putting it behind China and Samsung (SSNLF) in terms of technology.
Qualcomm also secured temporary injunctions on older iPhone models in Germany and China by claiming the infringement of its patents. In March, a US court ruled that Apple had infringed three of Qualcomm's patents.
Qualcomm
The ongoing lawsuit with Apple triggered investigations into Qualcomm's licensing model by other countries' regulators. As a result, Qualcomm has paid hefty fines in South Korea, Taiwan, and Europe. The company has appealed these fines.
Unpaid royalty payments by Apple have also significantly reduced Qualcomm's profits and free cash flows. Qualcomm's shareholders have put pressure on the company's management to generate returns. These headwinds also encouraged Broadcom (AVGO) to attempt a hostile takeover last year.
Investors should closely follow the trial, as the movement of the case will put pressure on the weaker party to settle, likely boosting the stock price of the winning party.