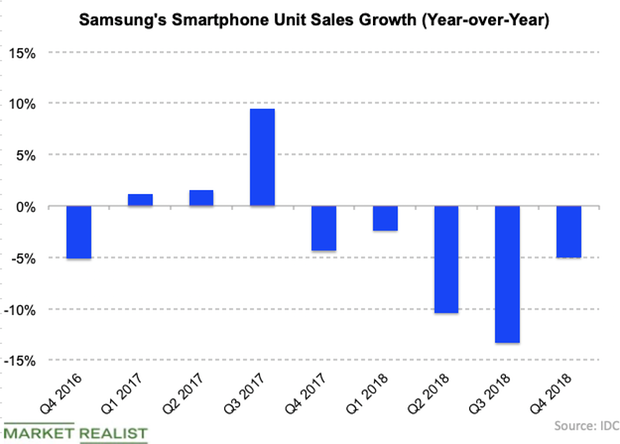 Samsung Is Delaying the Launch of Its Foldable Phone
Reviewers found Samsung Galaxy Fold too fragile
South Korean electronics giant Samsung (SSNLF) confirmed that it was delaying the release of its much-anticipated Galaxy Fold, its foldable smartphone, just a few days before it was originally scheduled to launch. The Galaxy Fold, which costs $2,000, folds in half and measures 7.3 inches when open.
The delay was due to problems reported by many reviewers, which marked a setback for the world's leading smartphone company. The delay demonstrates the challenges companies face when they're working on big improvements in smartphones. While the delay of the launch is a disappointment, it's the right move, as selling fragile phones—especially at such steep prices—could cost the company its reputation.
Article continues below advertisement
Samsung hopes to be the pioneer of foldable technology
The company wants to be a pioneer in foldable technology, which, along with 5G technology, is widely expected to be the next big leap in smartphone innovation.
With smartphone sales dwindling worldwide, only leaps in innovation will propel smartphone sales. Customers are upgrading their phones less often because they're happy with the smartphones they currently own. Additionally, they're balking at ever-increasing smartphone prices.
Even if Samsung had been able to launch its foldable smartphone on time, it may not have been able to gain a significant lead over Apple (AAPL), which hasn't yet unveiled its foldable phone. Canalys expects that fewer than 2 million foldable phones will be sold this year. However, Canalys does expect foldable smartphones to get cheaper.