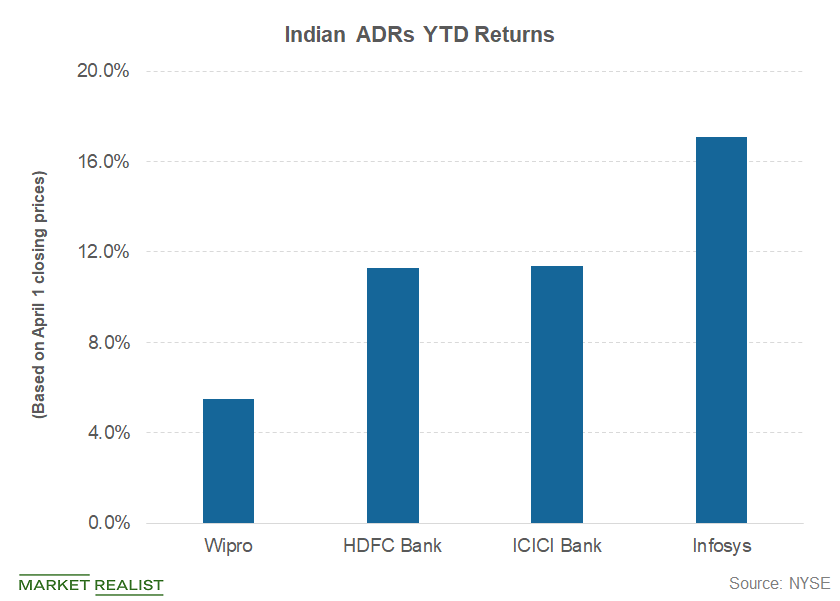 India Markets Face These Headwinds
By Mohit Oberoi, CFA

Apr. 2 2019, Published 8:07 a.m. ET
Macro headwinds
Indian equity markets have reached an all-time high. Leading ADRs ICICI Bank (IBN), HDFC Bank (HDB, Infosys (INFY), and Wipro (WIT) have gained 11.4%, 11.3%, 17.1%, and 5.5%, respectively, in 2019 based on yesterday's closing prices. The Indian currency was weak at the beginning of the year. However, it changed course in March and appreciated against the US dollar. A stronger currency is negative for India's information technology sector, as leading companies get most of their revenues from overseas markets.
WAKE UP WITH BAGELS & STOX, OUR NEW EMAIL THAT ENTERTAINS AND INFORMS YOU BEFORE THE DAY STARTS. SIGN UP HERE!
Article continues below advertisement
Election uncertainty
The key driver behind the rise in Indian markets this year has been expectations that the current Narendra Modi led government will be voted back to power this year. Having said that, following pollsters could be risky. After all, pollsters never saw Brexit coming, nor did they expect Donald Trump to be elected as US president.
Secondly, from a macro perspective, Indian markets continue to show weakness. The Indian government missed its direct tax collection target in the last fiscal year, which ended on March 31. The current uptrend in equities has been fueled by higher inflows from foreign investors who seem to be expecting that pollsters would be right about election results.
Energy prices
Energy prices have risen to multi-month highs that complicate the situation for India (EPI) (INDA). The country relies on imports for most of its crude oil needs and would face difficulty in passing on higher prices to consumers amid the upcoming elections. The country's fiscal deficit, which is already high, could rise further if energy prices stay strong.