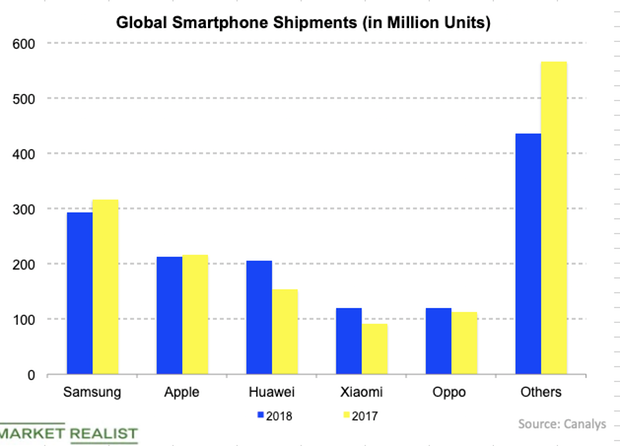 Huawei's Dominant 5G Position in Q1 Bolstered Its Revenue Growth
Huawei's revenue rose 39% YoY in the first quarter
Chinese tech giant Huawei reported its first-quarter earnings results on April 22. The company continues to see rapid growth. It said that it generated 179.7 billion Chinese yuan (~$26.8 billion) in revenue during the first quarter, up 39% YoY.
The company said that its net profit margin was 8%, a slight expansion from the same period last year.
Article continues below advertisement
Huawai said it had penned 40 commercial 5G contracts
Huawei also said that as of the end of the first quarter, it had penned 40 commercial 5G contracts. The world's largest maker of telecommunications equipment had also shipped over 70,000 base stations, which will support 5G networks across the world.
Last year, the company's core carrier business fell 1.3%. However, its 5G rollout could mean that its carrier business will improve this year.
Huawei's main smartphone business has also been buzzing. The company said that its consumer business, which includes its smartphone business, rose 45.1% annually in 2018.
The company has been able to grow its smartphone business domestically as well, while most of its rivals are seeing tepid growth in comparison. Huawei and its local rival Xiaomi (XIACF) are both seeing spectacular growth outside China.