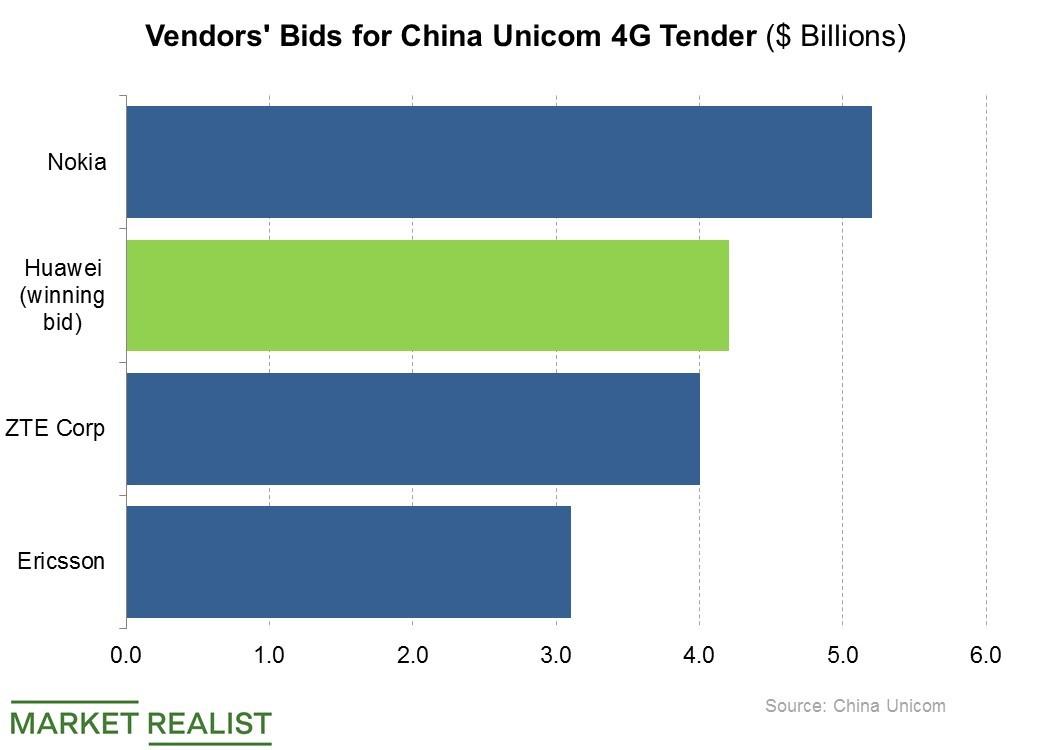 Here's a Glimpse of What Ericsson Is Pursuing in China
By Ruchi Gupta

Apr. 24 2019, Updated 3:30 p.m. ET
A total of 60% of the world's 4G base stations are in China
Ericsson (ERIC) expects Chinese operators to begin deploying 5G networks in the coming months, executives said at an investor briefing recently. Ericsson is one of the vendors chasing orders for 5G equipment from Chinese operators. At Ericsson's investor briefing this month, CEO Börje Ekholm provided a glimpse of the market opportunity the company is pursuing in China.
According to Ekholm, there's no bigger potential market for 5G telecommunications equipment than China. The executive said that 60% of 4G base stations in use worldwide are in China, indicating a significant potential market for its 5G equipment in the country once operators there begin building 5G networks.
Article continues below advertisement
Ericsson is waging a price war in China
Unlike its competitors Nokia (NOK) and Huawei, Ericsson wasn't lucky in the Chinese market in terms of the previous mobile network technologies (2G, 3G, and 4G). The company is now counting on 5G to reverse its fortunes in China. Besides creating products that it believes will appeal to Chinese operators, Ericsson has shown a willingness to wage a price war with its competitors in China.
When China Unicom (CHU) invited bids for a 4G equipment supply, Ericsson offered the lowest price among the major vendors that submitted bids, showing it as a company that was out to undercut its rivals with cheap prices to win over customers in the region. Ericsson's bid for the China Unicom tender was $3.1 billion compared to Nokia's $4.0 billion, ZTE's $4.2 billion, and Huawei's $5.2 billion.
Nokia, Ericsson's rival that also hails from Europe, does business with all of China's top three operators, China Unicom, China Telecom (CHA), and China Mobile (CHL). Last year, Nokia secured 5G-related contracts worth ~$2.3 billion with all of these Chinese operators.