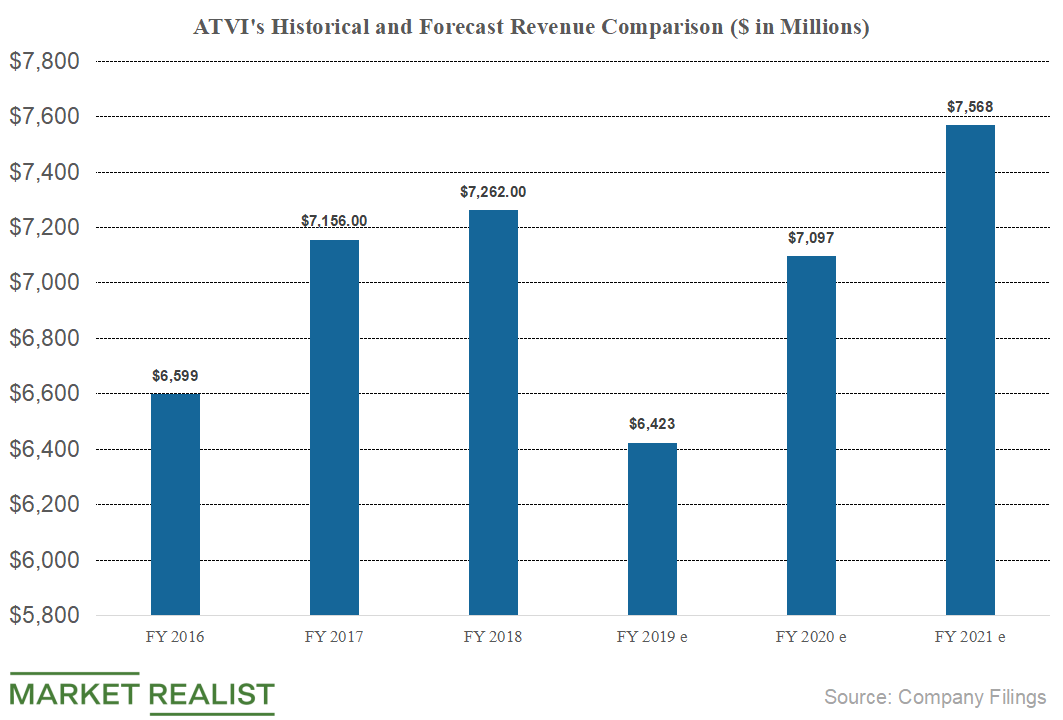 A Look at Activision Blizzard's 2019 Revenue and Earnings Growth
By Adam Rogers

Apr. 12 2019, Published 8:14 a.m. ET
Activision Blizzard's sales are expected to fall 11.6% in 2019
The global gaming market continues to grow at a robust pace. The gaming market is expected to reach $150 billion this year, up from $135 billion in 2018. While the overall gaming market is growing in the double digits, Activision Blizzard's (ATVI) sales are expected to fall more than 11% this year.
A weak outlook in a growing market left investors unhappy, sending ATVI spiraling downward shortly after the company reported its fourth-quarter results.
Article continues below advertisement
Earnings per share
This year will see Activision Blizzard's revenue fall for the first time in over seven years. A significant fall in its sales will also negatively affect its bottom line. Comparatively, Activision's non-generally accepted accounting principles EPS are expected to fall 15.4% in 2019 to $2.20 from $2.60 in 2018. The company's EPS are then expected to rise 16.8% to $2.57 in 2020.
Analysts expect ATVI's EPS to rise at a CAGR (compound annual growth rate) of 7.3% over the next five years, far below the CAGR of 27.3% in its EPS in the last five years.
Profit margins
ATVI's operating profit could fall from 34% in 2018 to 33.3% in 2019. The company's operating margin is expected to expand to 35% in 2020 and 35.3% in 2021.
Similarly, the company's net margin is expected to contract from 25% in 2018 to 17% in 2019 and then expand to 20.3% in 2020 and 22.3% in 2021.