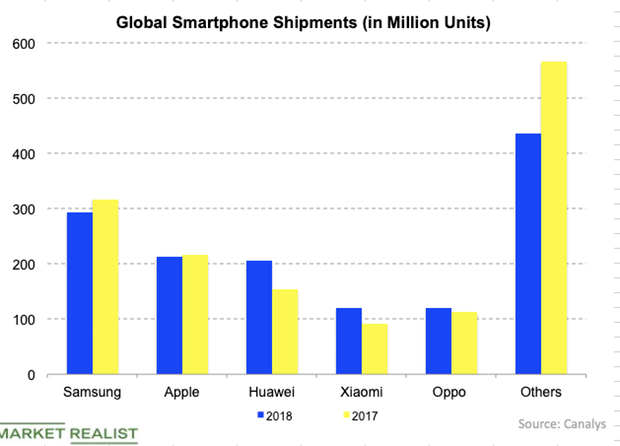 Huawei Reported Impressive Numbers in 2018 despite Headwinds
By Sanmit Amin

Mar. 29 2019, Published 2:46 p.m. ET
Huawei's earnings continue to surge
Chinese tech and carrier giant Huawei reported stellar growth in 2018 despite several headwinds. The company announced that it had generated revenue of 721.2 billion Chinese yuan ($107 billion) in the year, a rise of 19.5% from 2017 but a narrow miss in terms of its own guidance.
Huawei posted a net profit of 59.3 billion yuan ($8.8 billion) in 2018, an annual rise of 25%. However, this growth was slightly slower than the 28% growth it saw in 2017.
However, Huawei's carrier business, which provides telecommunications products such as 5G equipment to carriers, fell 1.3% in 2018 compared to 2017. This fall was a major drag on Huawei's overall revenue, as the business made up 40.8% of the Chinese company's overall revenue in the year.
Article continues below advertisement
Huawei's smartphone shipments have seen excellent growth
The lackluster growth in the carrier business could be an effect of the pressure applied by the US government, which has been urging its allies to restrict the use of Huawei's equipment, as it believes Beijing could be using that equipment to spy.
On the bright side, Huawei's consumer business, which includes its fast-growing smartphone business, grew a robust 45.1% annually. What's impressive is that Huawei was able to grow its shipments by 16% in 2018, according to Canalys, even though overall Chinese smartphone shipments decreased by 14% in the year.
Huawei was also able to grow its shipments globally amid a similar backdrop. In 2018, Huawei's shipments grew an impressive 34.5% YoY—the best growth by a top-five vendor in the year—even though global smartphone shipments fell 4.6% annually. Huawei is breathing down the necks of Samsung (SSNLF) and Apple, whose shipments shrank in the period.