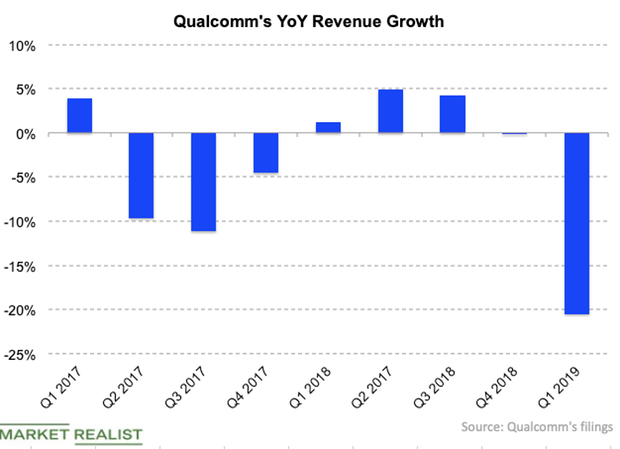 Here's Qualcomm's Latest Victory over Apple
By Sanmit Amin

Mar. 6 2019, Updated 3:55 p.m. ET
The Qualcomm-Apple saga continues
Apple (AAPL) and Qualcomm (QCOM) have been embroiled in a feisty legal battle for over two years now. Qualcomm's growth has been highly hindered due to the battle, as Apple was its biggest client. Apple has also been affected by the battle in its efforts to launch its 5G iPhone.
After Apple's first lawsuit against Qualcomm, which accuses the company of charging an unfair price for its chips, Qualcomm tried to sue Apple on multiple grounds. Recently, Qualcomm has been able to win small legal victories including bans on certain iPhones in China and Germany. However, Apple has been able to circumvent the ruling in Germany by making some changes.
Article continues below advertisement
The latest battle was in San Diego
On Monday, March 4, another milestone in this epic battle occurred. An eight-day trial regarding Apple's alleged usage of a patent-encroaching modem kicked off in the San Diego Federal Court. Qualcomm argued that Apple infringed on the chipmaker's patent regarding power management and battery features. The saga could reach another turning point as we near Apple's $1 billion royalties suit.
As the graph above shows, Qualcomm's revenue growth has suffered due to the battle. Qualcomm's stock is down nearly 16% in the last 12 months.