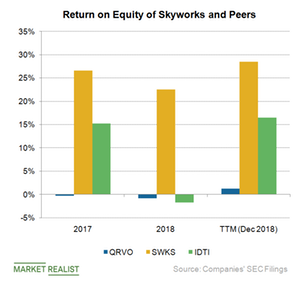 Efficiency Ratios Favor Skyworks over Qorvo
By Puja Tayal

Aug. 18 2020, Updated 5:26 a.m. ET
Efficiency ratios
Skyworks (SWKS), a RF (radio frequency) chip supplier, has high exposure to Apple and the smartphone market. The company has been diversifying into other revenue streams like automotive and IoT (Internet-of-Things). In the third quarter of fiscal 2019, Skyworks earned 27% of its revenues from non-mobile segments and 73% from the mobile segment.
Apple's other RF chip supplier, Qorvo (QRVO) is also expanding in the networking and infrastructure space. However, the company's comparatively weaker fundamentals make it an expensive stock. In the fourth quarter of calendar 2018, Skyworks' net margin was 33.4%, while Qorvo's net margin was 28%.
When investing in a stock, investors also look at the management's efficiency to generate maximum returns from minimum investment. The measurement can be obtained using efficiency ratios.
Article continues below advertisement
Return on equity
A stock's return on equity shows the net income a company can generate from shareholder capital. A company can improve its return on equity by repurchasing shares, by improving its net income, or by reducing its debt.
As you can see in the above graph, Skyworks had a return on equity of 28.54% in the trailing 12 months to December 2018, which is higher than Qorvo (QRVO) and Integrated Device Technology's (IDTI) return on equity of 1.26% and 16.5%. In fiscal 2018 ending in March 2018, Qorvo and Integrated Device Technology's return on equity even went negative. Skyworks' return on equity was always positive and in the double digits.
Snapshot on Skyworks' stock
Skyworks has stronger revenue and earnings growth than Qorvo. Skyworks is relatively cheaper than Qorvo in terms of the valuation with a PE ratio of 13.15x. Analysts see a 10% upside potential in the stock. The stock also has a strong return on equity compared to Qorvo and Integrated Device Technology.