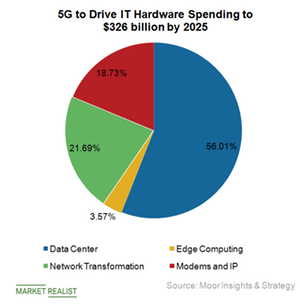 Broadcom's 5G Opportunity at a Glance
By Puja Tayal

Mar. 12 2019, Published 9:34 a.m. ET
Broadcom's 5G opportunity
So far, we've looked at Broadcom's (AVGO) growth through mergers and acquisitions. The company has built an extensive product portfolio through these acquisitions, readying it to tap the 5G opportunity.
The 5G revolution is at its inception. This technology will connect multiple devices to the Internet simultaneously and will not only provide faster Internet services but also support IoT (Internet of Things) technology. The advent of 5G technology will see all carriers deploying 5G infrastructure, which needs more radio frequency content. This development should boost revenue for Broadcom's Wired Infrastructure business.
Among the early adopters of 5G technology are smartphone makers, and the rollout of the technology will see many customers upgrading their old phones. A 5G-enabled phone will use expensive, higher-margin semiconductor content, which is offered by Broadcom's Wireless business.
Article continues below advertisement
5G technology will provide the right ecosystem for real-time AI-driven data analysis in smart city, autonomous vehicle, and industrial automation applications. The growing adoption of AI will lead to exponential growth in data centers and cloud computing, thereby driving the demand for the enterprise storage products offered by Broadcom. The growing demand for IoT will likely also boost the sales of Broadcom's industrial products.
According to a Forbes article, Moor Insights & Strategy expects 5G to drive IT hardware spending to $326 billion by 2025. Spending is expected to increase in the areas of 5G data processing, 5G modems and intellectual property, storage and networking for data center and the edge, and carrier network transformation.
Broadcom's 5G portfolio
Broadcom has developed a complete 5G switching portfolio that includes six devices: Monterey, Quartz, Qumran2a, Jericho2, Jericho2c, and Ramon. The portfolio is designed to meet the high-performance requirements of new Ethernet-based 5G New Radios and base stations.
Back in early 2018, Broadcom made a hostile takeover bid for Qualcomm (QCOM), a leader in the 5G technology space. However, the deal was canceled by US President Donald Trump. Broadcom was headquartered in Switzerland at the time, and Qualcomm's giving away critical 5G technology to another country posed a national security risk. Broadcom now has its headquarters in the United States, but it can no longer bid on Qualcomm.
Next, we'll look at Broadcom's stock valuation and whether it's attracting long-term value investors.