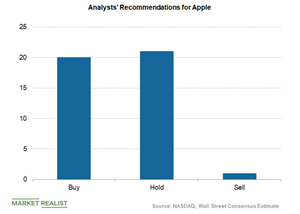 Will Samsung's New Foldable Phone Pose a Threat to Apple?
By Sophia Nicholson

Updated
Goldman warns Apple investors
Samsung (SSNLF) launched its new smartphone Galaxy Fold along with other high-end smartphones on Wednesday. The unique foldable feature of Galaxy Fold with 5G mobile network immediately caught the attention of consumers looking for innovative features in a smartphone. However, the Galaxy Fold launch came as a challenge for Apple (AAPL), as some claim that the iPhone lacks new features despite having high prices.
Article continues below advertisement
Analysts' note to clients
According to an analyst at Goldman Sachs, Galaxy Fold includes "a compelling form factor that only Samsung's foldable OLED technology can deliver," as published in a CNBC report. "Should that form factor spark consumer interest we would expect Samsung to delay access to the technology for Apple," the analyst said. The analyst believes that the foldable screens are the new compelling form factor, and Samsung has been working on it for at least two years. Apple doesn't have access to the OLED technology and therefore might lose share in the premium smartphone market.
Analysts are not too optimistic on the stock
Out of the 42 analysts covering Apple, 20 analysts have given the stock a "buy" rating, while 21 analysts rated the stock with a "hold" rating. Only one analyst has rated the stock a "sell." Though Apple is gaining from its services segment, which includes Apple Pay, Apple Music, and iCloud storage, its flagship product iPhones have been suffering primarily due to its weakening demand in China. Samsung's new foldable phone might also pose a threat to Apple this year.
Analysts have set a target price of $178.49 for the stock and a median consensus estimate of $177.99. Apple is now trading at a 3.9% discount to its consensus median target estimate.