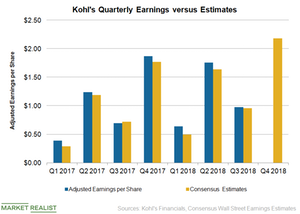 Will Kohl's Profitability Improve in the Fourth Quarter?
By Sirisha Bhogaraju

Feb. 27 2019, Updated 5:50 p.m. ET
Q4 earnings expectations
Kohl's (KSS) beat analysts' earnings expectations in each of the first three quarters of fiscal 2018. In fiscal 2018's third quarter, which ended on November 3, Kohl's adjusted EPS grew 40% on a year-over-year basis to $0.98. The company's third-quarter EPS beat analysts' expectations by two cents. The strong growth in Kohl's third-quarter adjusted EPS was driven by higher sales, a lower interest expense, and lower taxes. The company's EPS also benefitted from a lower share count, reflecting the impact of share repurchases.
Kohl's will announce its fiscal 2018 fourth-quarter results on March 5. Analysts expect Kohl's adjusted EPS to rise 16.6% to $2.18, which ended on February 2, 2019.
Article continues below advertisement
Margins in the previous quarter
Kohl's gross margin expanded by 25 basis points to 37.0% in fiscal 2018's third quarter, driven by lower markdowns as a result of efficient inventory management. The company's fiscal 2018 third-quarter operating margin declined by five basis points to about 5.9% due to deleverage in corporate and technology expenses.
The company's gross margin increased by 39 basis points to 37.8% in the first nine months of fiscal 2018. Kohl's operating margin expanded by about 40 basis points to 7.3% in the first nine months of fiscal 2018.
Full-year expectations
Analysts expect Kohl's adjusted EPS to rise 32.2% to $5.54 in fiscal 2018. The company expects its fiscal 2018 EPS in the $5.50–$5.55 range.
Kohl's fiscal 2018 margins might be under pressure due to growth investments, including investments in the cloud and other technology initiatives to drive efficiencies and support future growth.