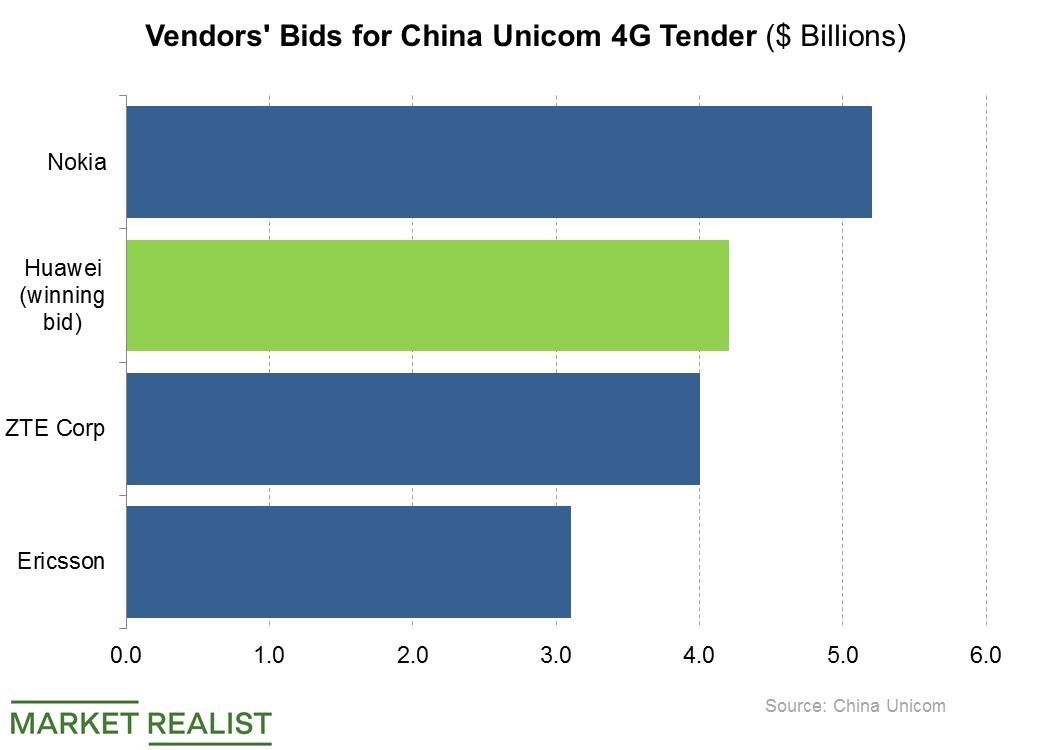 Why Ericsson Is Waging a Price War in China
By Ruchi Gupta

Feb. 27 2019, Updated 10:30 a.m. ET
Ericsson placed lowest bid for China Unicom tender
Ericsson (ERIC) appears to be waging a price war against its competitors in China as it seeks to expand its foothold in the country. When China Unicom (CHU) invited bids for a 4G network equipment tender, Ericsson surprisingly offered the lowest price among the four major vendors that submitted bids for that tender, according to a Bloomberg report.
For that tender, Ericsson offered to sell its 4G base stations to China Unicom for 21 billion yuan ($3.1 billion). ZTE Corp, Huawei, and Nokia (NOK) placed bids of about $4.0 billion, $4.2 billion, and $5.2 billion, respectively, for China Unicom's 4G tender. Huawei's bid carried the day. But the China Unicom tender offered a glimpse of how far Ericsson is willing to go to gain market share in China.
Article continues below advertisement
Ericsson wants to be on 5G front row in China
China has emerged as a top priority market for Ericsson, especially as the transition to the 5G network technology begins. Ericsson CEO Börje Ekholm said at an investor briefing last month that China will lead the world in 5G network deployment at scale. The executive went on to reveal that Ericsson is investing heavily to take advantage of the anticipated huge network investments in China as the country transitions to 5G.
That Ericsson is willing to undercut the competition with the lowest prices in China doesn't come as a surprise. The company struggled to get a strong foothold in China with the previous mobile network technologies (2G, 3G, and 4G), so it is betting big on 5G adoption to transform its fortunes in the country.
China Unicom is one of China's three leading mobile operators. The others are China Mobile (CHL) and China Telecom (CHA). Nokia last year bagged a $2.3 billion 5G-related deal with all three operators.