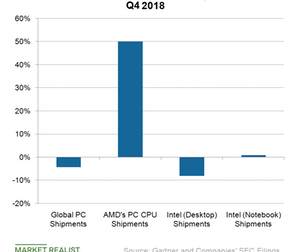 What Drove AMD's Computing Revenue to Its Four-Year High?
By Puja Tayal

Feb. 12 2019, Updated 7:42 a.m. ET
AMD's computing earnings
Previously, we learned that Advanced Micro Devices' (AMD) fourth-quarter revenue had been driven by 39% YoY (year-over-year) growth in its CG (Computing and Graphics) segment. 
The company has been increasing its market share in the computing and graphics markets. The move saw its CG segment's contribution to its revenue increase to 63.7% in 2018 from 56.7% in 2017.
Within the CG segment, computing reported stronger growth than graphics. In the fourth quarter, AMD recorded its highest client computing revenue in more than four years driven by more than 50% YoY growth in client CPU (central processing unit) shipments. This growth in shipments was largely driven by the production ramp-up of the company's Ryzen CPUs, which accounted for 80% of its client revenue. AMD's higher mix of Ryzen CPUs increased its client ASP (average selling price) and contributed to the 248% YoY growth in its CG segment's operating profit.
Article continues below advertisement
AMD's PC CPU market share
AMD's client CPU shipments rose 50% YoY in the fourth quarter, whereas its PC rival Intel's (INTC) desktop platform shipments fell 8% YoY in the quarter. In fact, global PC shipments fell 4.3% YoY in the fourth quarter of 2018, according to Gartner's preliminary data. This shows that AMD gained market share from Intel in terms of units shipped.
This market share gain came as Intel faced a CPU supply shortage after PC demand rose unexpectedly while it was transitioning its product lines to the 10 nm (nanometer) node. The supply shortage forced Intel to prioritize the production of data center and high-end PC CPUs, leaving the lower-end consumer CPU market to AMD. PC demand rose as businesses upgraded their PCs to Windows 10.
Computing performance in the first quarter
Intel expects the CPU supply shortage to continue in the first quarter of 2019. AMD is leveraging this opportunity by launching its second-generation Ryzen laptop CPUs, built on Global Foundries' 12 nm node, and its third-generation Ryzen desktop CPUs, built on TSMC's (TSM) 7 nm node, in the current quarter.
AMD stated that the number of Ryzen-powered desktops and Ryzen-powered notebooks expected to launch in 2019 will increase by over 30% YoY and over 50% YoY, respectively. AMD expects these product launches to boost its computing revenue through 2019 and help it gain market share from Intel.
Next, we'll look at AMD's graphics business.