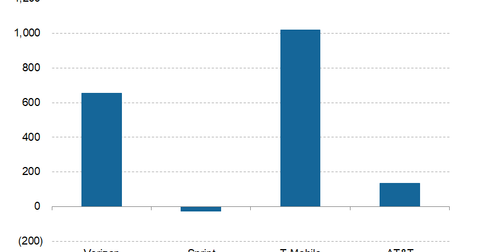 Verizon Is Working to Build Customer Base
By Ambrish Shah

Updated
Verizon adds customers
Verizon (VZ), the largest mobile operator in the United States, has been consistently focusing on improving its network to add more customers, as the customer base determines the performance of a mobile carrier. During the fourth quarter, the company gained 1.1 million total retail net wireless customers compared to 990,000 net additions in the fourth quarter of 2017.
Verizon reported a net increase of 1.2 million retail postpaid connections in the fourth quarter. This number includes 653,000 net phone additions, 11,000 tablet net additions, while other connected devices like wearables accounted for 556,000 net additions. However, the telecom company lost 90,000 retail prepaid customers.
In the fourth quarter, Verizon also reported postpaid smartphone net additions of 873,000 compared with 647,000 net additions in the fourth quarter of 2017.
By the end of the fourth quarter, Verizon had a total of 118.0 million retail wireless customers, up ~1.5% YoY. This number included 113.4 million retail postpaid customers, which rose ~2.3% YoY, and retail prepaid customers of 4.6 million, which declined by ~14.0% YoY.
Article continues below advertisement