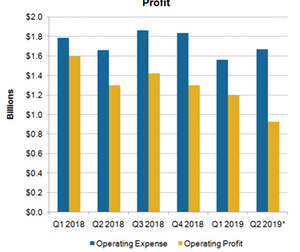 Qualcomm's Profits Fall despite Cost Cuts
By Puja Tayal

Updated
Qualcomm's profitability
The loss of orders from Apple (AAPL) and smartphone weakness hurt Qualcomm's (QCOM) revenue in the first quarter of fiscal 2019. However, its efforts to resolve licensing disputes and boost 5G adoption have started to pay off.
In the first quarter of fiscal 2019, Qualcomm saw its non-GAAP (generally accepted accounting principles) gross margin expand to 57% from 56% a year ago, although its gross profit fell 20% YoY (year-over-year) in dollar terms due to revenue declines. The company's gross margin is expected to contract to 54% due to a demand slowdown. However, its gross margin could expand as its mix of higher-margin 5G products increases.
Amid weak revenue, Qualcomm is looking to boost its profits by reducing its costs. A year ago, Qualcomm's management promised shareholders to reduce costs by $1.0 billion to fend off a hostile takeover by Broadcom (AVGO), which was ultimately canceled by US President Donald Trump.
Article continues below advertisement
Progress on $1 billion cost reduction program
On Qualcomm's fiscal 2019 first-quarter earnings call, its CFO, George Davis, stated that it's on track to achieve $1.0 billion in cost cuts. It has reduced its costs by $850 million from its $7.4 billion operating expense in fiscal 2018, but it's currently "tracking somewhat above the $6.4 billion run rate" because of high litigation expenses. Davis expects the company to achieve additional savings in litigation costs once its licensing disputes—especially its dispute with Apple—are settled.
Operating expenses
In the first quarter of fiscal 2019, Qualcomm's non-GAAP (generally accepted accounting principles) operating expenses fell 15% sequentially and 12.8% YoY to $1.56 billion, far below its guidance of $1.7 billion. Its operating expenses fell due to lower-than-expected litigation expenses, the re-evaluation of deferred compensation due to a weaker stock market, layoffs, and its exit from the Centriq data center business.
Despite Qualcomm's reducing its operating expenses, its non-GAAP operating profit fell 26% YoY to $1.2 billion, equating to a 25% operating margin, in the first quarter of fiscal 2019 as its revenue fell faster than its expenses. Its revenue fell 20.3% YoY, while its operating expenses fell 12.8% YoY.
In the second quarter of fiscal 2019, Qualcomm expects its operating expenses to increase 6%–8% sequentially to $1.67 billion as its Apple case goes to trial, thereby increasing its litigation expenses. In the same quarter, it expects its revenue to fall 7.7% sequentially, reducing its operating income by 28.5% YoY to $928.7 million, equating to a 19% operating margin.
Next, we'll look at Qualcomm's net income.