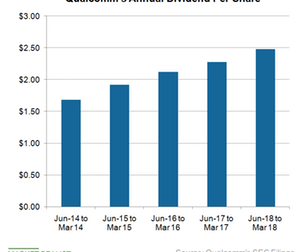 Can Qualcomm Sustain Its Dividend Growth in 2019?
By Puja Tayal

Feb. 21 2019, Updated 12:30 p.m. ET
Dividend yield
Qualcomm (QCOM) is known for its high dividend yield, which makes it an attractive buy for income investors seeking consistent cash flows from their investments. A dividend is an income that a company distributes to its shareholders. It's generally paid by large companies with stable earnings and cash flows. Because these companies are large, their growth rates are slow. Moreover, high-yielding stocks generally struggle when interest rates rise, as higher rates make bonds more attractive to income investors.
Investors tend to consider a company's dividend in the form of its dividend yield, which is its dividend as a percentage of its stock price.
Article continues below advertisement
Qualcomm's dividend
Qualcomm stock is currently trading at $51.98 and has an annualized dividend of $2.48 per share, which equates to a dividend yield of 4.81%. Qualcomm's dividend yield is higher than its peers Intel's (INTC) and Broadcom's (AVGO) yields of 2.48% and 3.77%, respectively. Qualcomm's dividend yield is even higher than the S&P 500's yield of 1.95%.
While Broadcom's annualized dividend of $10.6 is higher than Qualcomm's, the former's stock price is $281.93, which reduces its dividend yield to 3.77%. Qualcomm's higher dividend yield means that investors can earn a higher dividend with a lower investment.
Qualcomm's dividend history
Not only does Qualcomm offer higher yield, but it has also been growing its dividend every year for the last five years at an average annual rate of 10.3%. The company could grow its dividend on the back of strong FCF (free cash flow). However, its FCF fell to a multiyear low of $204 million in the first quarter of fiscal 2019. If the company is unable to improve its FCF in the second quarter, it might not increase its dividend per share—or it might increase it very little—this year.
Qualcomm's next dividend announcement in April 2019 will bring clarity regarding its future FCF.