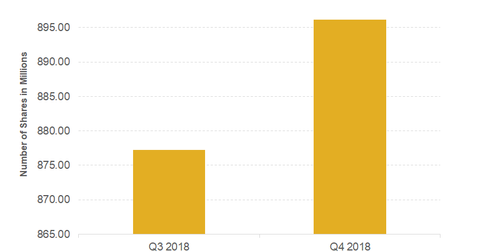 Buffett Indirectly Says Trump's Claims Are 'Beyond Arrogance'
By Jitendra Parashar

Feb. 25 2019, Updated 5:00 p.m. ET
Warren Buffett's investments
Previously in this series, we looked at the solid long-term returns that Buffett-owned Berkshire Hathaway (BRK-B) has yielded. Between 1964 to 2018, Berkshire has delivered 1,091,899% positive returns as compared to 15,019% positive return seen in the S&P 500 Index (SPY). Now let's move on by looking at what Warren Buffett said about President Donald Trump without mentioning his name.
Article continues below advertisement
Buffett indirectly calls Trump's claims "beyond arrogance"
President Trump is known to be outspoken about his big claims about his contribution to the US economic growth. Among many such incidents, on February 19, Trump claimed in a tweet, "Had the opposition party (no, not the Media) won the election, the Stock Market would be down at least 10,000 points by now. We are heading up, up, up!"
As of February 22, Microsoft (MSFT), Apple (AAPL), NVIDIA (NVDA), Qualcomm (QCOM), Netflix (NFLX), Oracle (ORCL), General Electric (GE), and Boeing (BA) have risen 6.3%, 3.9%, 10.7%, 7.3%, 6.9%, 4.5%, 0.1%, and 10.0%, respectively.
In Berkshire Hathaway's shareholder letter, released on February 23, Buffett, with great humility, tried to give the credit of his investment firm's success to "The American Tailwind." In reference to his belief and that of Charlie Munger, his long-time business partner, he wrote: "Charlie and I happily acknowledge that much of Berkshire's success has simply been a product of what I think should be called The American Tailwind."
In the next sentence, Buffett targeted Trump saying, "It is beyond arrogance for American businesses or individuals to boast that they have "done it alone."
Buffett is known for his humorous style of mentioning things. In the same fashion, he added, "The tidy rows of simple white crosses at Normandy should shame those who make such claims."
The Oracle of Omaha also had something to say on the trade war triggered by Trump. We'll take a look at that in the next part of this series.