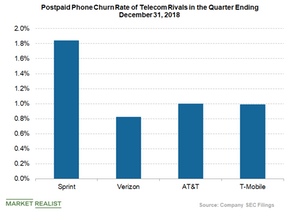 AT&T Adds Postpaid Phone Subscribers—Growth Remains Sluggish
By Sophia Nicholson

Updated
Sluggish customer growth in the fourth quarter
AT&T (T) reported wireless customer additions in the fourth quarter driven by postpaid and prepaid phone customer gains. In the quarter, the leading US mobile carrier posted wireless net additions of 3.8 million subscribers in North America, including 2.8 million subscriber additions in the United States and nearly 1 million additions in Mexico.
However, wireless customer growth remained weak as the company pulled back on promotional offers for phone and TV plans. Postpaid phone subscriber additions also lagged expectations in the quarter. The company's churn rate also increased from the previous year's quarter.
Article continues below advertisement
AT&T's postpaid phone customer additions
AT&T has been making efforts to grow its subscriber base amid a saturated market. It added a net 134,000 postpaid phone subscribers in the fourth quarter. However, analysts had predicted net additions of 208,000 postpaid phone customers. In comparison, AT&T's peer Verizon Communications (VZ) posted an increase of 653,000 postpaid customers, while T-Mobile (TMUS) added net 1 million postpaid phone customers in the quarter. Sprint (S), on the other hand, lost net 26,000 postpaid phone subscribers in the comparable quarter.
Churn rate
AT&T also posted a higher churn rate in the fourth quarter compared to the previous year and the preceding quarter.
T-Mobile's churn rate of 0.99% is better than AT&T's churn rate, which increased to 1% in the fourth quarter, up from 0.89% in the fourth quarter of 2017 and 0.93% in the third quarter of 2018. According to sources, AT&T's wireless network is slowing down and could lead to slower data speeds in contrast to smaller rival T-Mobile, which has been aggressively expanding its network capacity. In comparison, Verizon's postpaid phone churn rate was 0.82% in the fourth quarter, while Sprint's churn rate was 1.84% in the comparable quarter.