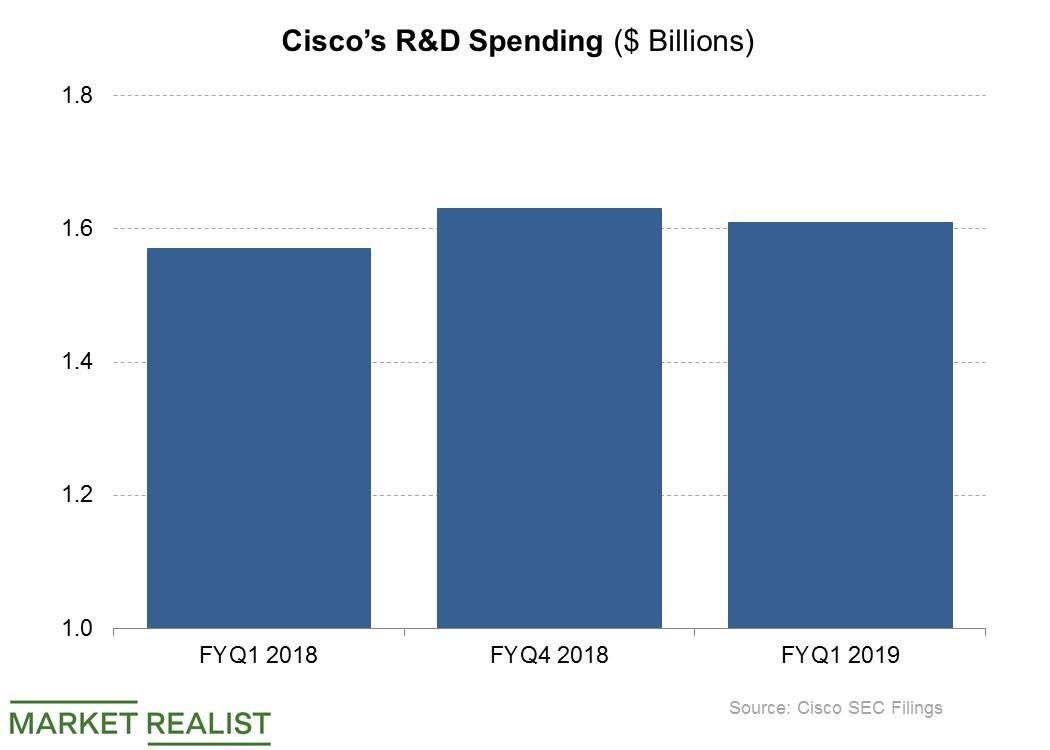 Why Cisco Fears for Its Future
By Ruchi Gupta

Jan. 24 2019, Updated 10:30 a.m. ET
United States prepares to hike tariffs on Chinese goods
Cisco Systems (CSCO) executives aren't sitting pretty even as the United States and China negotiate a resolution to their trade war. Cisco CEO Chuck Robbins has warned that an escalating trade war with China will come at a big cost to America's innovation lead, Bloomberg has reported.
Although the United States and China are negotiating a resolution to their trade dispute, the United States is prepared to raise tariffs on Chinese goods if the current talks break down. The United States has currently levied a 10% import tariff on a variety of Chinese goods worth $200 billion. According to Reuters, the tariff is set to rise to 25% by March if the ongoing talks fail to produce a breakthrough in the trade dispute between the world's two largest economies.
Article continues below advertisement
Rising tariff costs would hit R&D funds
Cisco manufactures some of its hardware products in China, meaning that the company is exposed to the tariffs and will have to bear a heavier burden if the tariffs increase. Cisco has so far responded to the 10% tariff by absorbing some of the additional costs while passing others on to customers. 
The company fears that it will be forced to absorb more costs if the tariff rises to 25%, which could lead it to cut back on R&D (research and development) spending. The risk in slashing R&D spending is that it would slow down innovation at Cisco, putting the company's future in jeopardy considering the highly competitive business environment in which it operates.
Cisco spent $1.6 billion on R&D in the latest quarter
Cisco spent $1.6 billion, or 12.2% of its revenue, on R&D in the first quarter of fiscal 2019, which ended in October. Palo Alto Networks (PANW) spent 17.3% of its revenue on R&D in the same period. Juniper Networks (JNPR), Arista Networks (ANET), and Microsoft (MSFT) spent 25%, 21%, and 14% of their revenues on R&D, respectively, in the quarter that ended in September.