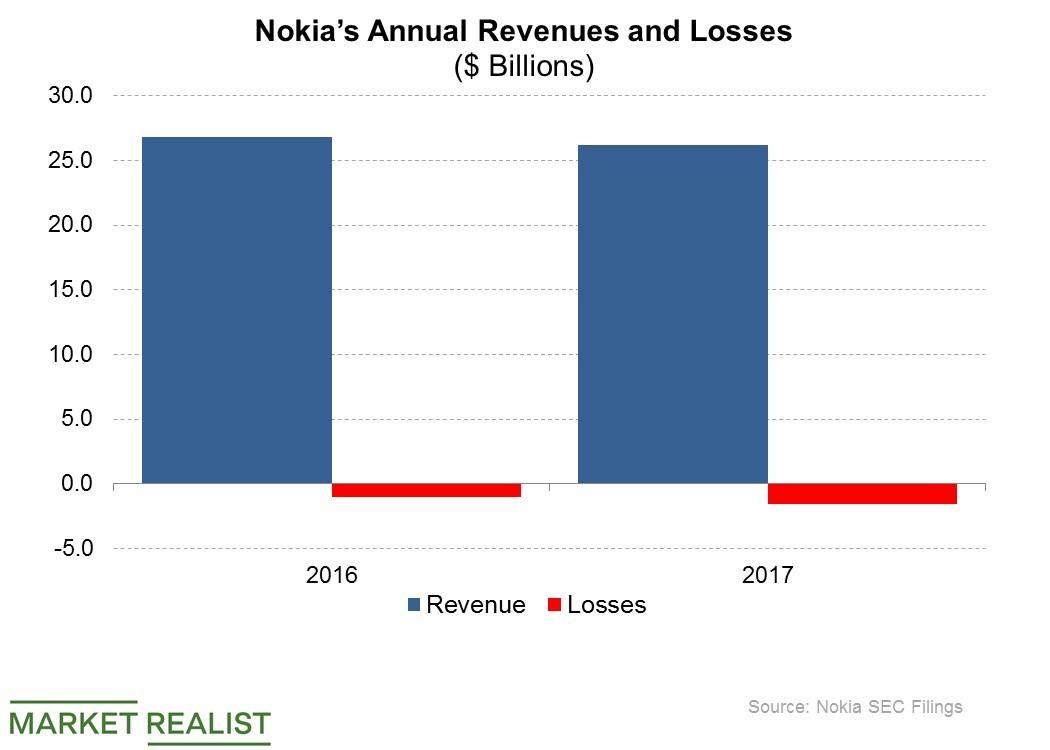 Nokia Brings LTE Network to Finnish Port
By Ruchi Gupta

Jan. 2 2019, Updated 4:40 p.m. ET
Diversifying beyond the telecommunications operators market
Nokia (NOK) and Ukkoverkot are providing a private LTE network at the Finnish port of HaminaKotka, the companies have announced. Ukkoverkot is a private network operator. Partnering to bring LTE network to the HaminaKotka port appears to be part of Nokia's efforts to diversify outside the typical telecommunications operators market. According to Nokia, its primary telecommunications operators market is growing at a slower pace than what it calls the adjacent market.
Article continues below advertisement
Last year, Nokia created a special operating division that it said would focus on sales to enterprise customers other than telecommunications operators starting in 2019. The division, known as the Enterprise Business Group, is the vehicle Nokia wants to use to pursue the $46 billion revenue opportunity in the adjacent market by 2021.
Adjacent market expanding 18% annually
Nokia currently relies on the operator market for the majority of its network revenue, but it forecast in 2016 that the market would grow at a rate of just 1.0% annually over a period of five years. In contrast, the company expects the adjacent market to grow at a rate of 18% annually over five years.
In the adjacent market, Nokia is looking at selling network products to companies in sectors such as ports, mining, and more.
Nokia suffered a $90 million loss
Nokia posted a loss of ~$90 million in the third quarter, its most recently reported period. Its loss was $1.6 billion in 2017. Ericsson (ERIC) suffered a loss of ~$200 million in the third quarter. South Korean conglomerate Samsung (SSNLF) posted a profit of $11 billion in the third quarter.
Juniper Networks (JNPR) and Arista Networks (ANET) made profits of $223.8 million and $168.5 million, respectively, in the third quarter.