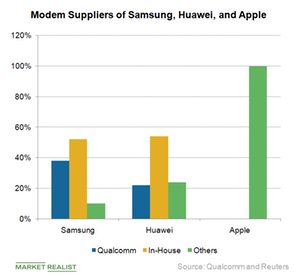 How Strong Are QCOM's Arguments against the FTC's Allegations?
By Puja Tayal

Jan. 10 2019, Updated 1:00 p.m. ET
Qualcomm's arguments
Previously, we learned that Qualcomm (QCOM) stock could either rise or fall significantly depending on the court's ruling on its antitrust lawsuit against the FTC (Federal Trade Commission).
The court's ruling is important for the entire smartphone industry, especially Apple (AAPL), which has brought a similar lawsuit against Qualcomm. The trial is ongoing, but let's take a look at which side has the stronger argument.
Article continues below advertisement
The FTC has accused Qualcomm of giving financial incentives to phone makers such as Apple and Samsung (SSNLF) to secure modem chip orders. According to Reuters, Qualcomm's attorney, Robert Van Nest, deemed the company's agreement with heavyweights such as Apple, Samsung, and Huawei "hard bargaining."
He stated that Samsung and Huawei used Qualcomm's modems in only a few phones. Samsung and Huawei used Qualcomm modems in only 38% and 22% of their phones, respectively, and sourced 52% and 54% of their modem chips internally. They sourced the remaining 10% and 24% of their modem chips from others.
Unlike Samsung and Huawei, Apple depends solely on Qualcomm and Intel (INTC) for modem chips. Van Nest explained that Qualcomm's deal with Apple came into effect after Qualcomm spent a huge amount of money to make its chips work on iPhones, and there was no guarantee of order volume.
How strong is Qualcomm's argument?
Although Qualcomm argues that its modems are used in a small portion of Samsung's and Huawei's phones, the question remains: on which phones are Qualcomm's modems used? According to Reuters, the FTC's case revolves around premium chips, in which Qualcomm has a large share.
It remains to be seen whether or not the court will accept Qualcomm's arguments against the FTC, but a partial summary judgment by a federal court judge in November 2018 favored the FTC, indicating that its argument was strong in the first stage.