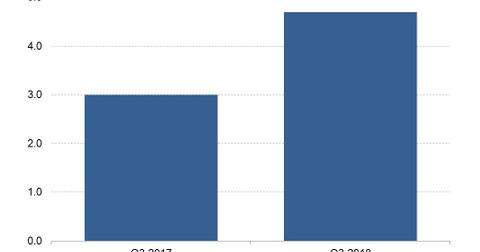 AT&T's to Stop Selling Location Data to Third Parties
By Ruchi Gupta

Jan. 23 2019, Published 9:12 p.m. ET
Bounty hunter helped track a phone
AT&T (T) plans to stop selling its customers' location data to third parties. This news comes after Motherboard published a story that revealed how the customer data operators share with third parties has been misused. The story detailed how a bounty hunter was able to track the location of a phone after being paid $300. The bounty hunter was able to do the tracking using data from a third party with access to data from the major operators.
Article continues below advertisement
Operators respond to phone tracking scandal
AT&T stopped most location tracking services and only maintained those that protect customers, such as fraud prevention and roadside assistance. But, in light of the report, AT&T is moving to stop all location services. It expects to complete the process in March. T-Mobile (TMUS) and Sprint (S) are also shutting down their location services in light of the report over the coming months. Verizon (VZ) had terminated location services with most third parties and is in the process of closing any remaining location services, The Verge reported.
AT&T trying to keep away from storms
As competition for customers tightens, mobile operators have become more sensitive to problems that could cause them to lose customers. That trend could explain why AT&T is seeking to keep away from controversial services. Data privacy has become a hot-button issue recently in the wake of high-profile data breaches and scandals at companies such as Facebook (FB). Last year, Facebook came under fire over mishandling its users' data.
AT&T made a profit of $4.7 billion in the third quarter.