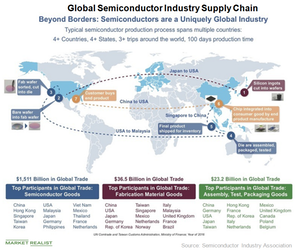 US-China Trade Tensions Could Continue in 2019
By Puja Tayal

Updated
The US-China trade war
This year's biggest news, the US-China trade war, prompted a market sell-off in March. Donald Trump implemented two rounds of tariffs. The first was July and August's 25% tariff on $50 billion in Chinese (FXI) imports, and the second was September's 10% tariff on $200 billion Chinese in imports, including semiconductors, electronic circuits, and consumer tech goods.
Trump warned of increasing the tariff to 25% on $200 billion in imports on February 1, 2019. He also warned of the possibility of a third round of tariffs on another $267 billion in Chinese imports, which would bring all Chinese imports under tariffs.
Article continues below advertisement
Tariffs could hurt US companies and consumers
The Trump administration is imposing tariffs on Chinese imports to force China to abandon its unfair trade practices and protect American intellectual property. However, tariffs may not end China's unfair trade practices but only hurt US companies and consumers, impacting the global economy.
China's inexpensive labor encouraged many US tech companies to outsource the manufacturing or assembly of their products to China before importing the finished goods to the United States. The US tariffs would apply to China-made chip components or complete chips imported to the United States. Therefore, semiconductor companies such as Micron Technology (MU) are shifting their manufacturing to countries other than the United States and China to avoid tariffs, thereby increasing their business costs. The global supply chain disruption and business uncertainty prompted by the trade war are forcing companies to cut production and consumers to cut spending, weakening economic demand.
The trade war in 2019
Next year, trade tensions could escalate or fade. If Trump increases tariff rates and implements a third round of tariffs, companies with major manufacturing operations in China, such as Apple (AAPL), could be impacted. If China retaliates by setting import quota, semiconductor companies that earn much of their revenue from the country such as Qualcomm (QCOM) and Micron could be impacted. Company-specific news could also affect specific stocks, which we'll look into next.
Check out all the data we have added to our quote pages. Now you can get a valuation snapshot, earnings and revenue estimates, and historical data as well as dividend info. Take a look!