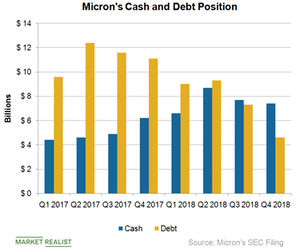 The Bull Case for Micron Stock
By Puja Tayal

Dec. 17 2018, Updated 3:30 p.m. ET
The bull case for Micron
Previously in this series, we saw that many investors and analysts have gone bearish on Micron Technology (MU) over fears of a cyclical downturn. In a cyclical downturn, the memory chip supply increases and demand falls, causing memory prices to fall sharply. A sharp decline in memory prices directly affects Micron's earnings, and any amount of operating leverage can't prevent earnings from falling. However, operating leverage can mitigate the impact of declining prices and protect the company from losses—and that's what has kept some investors bullish on Micron.
Article continues below advertisement
In the recent industry upturn, Micron significantly improved its balance sheet. It reduced its debt by $7 billion and increased its cash reserve, resulting in a net cash position of $2.6 billion by the end of fiscal 2018. While the strong cash position shouldn't protect Micron from the next downturn, it could give the company some investment flexibility.
The memory market stabilizes
Unlike the last downturn in the first half of 2016, Micron has significantly reduced its cost gap with competitors Samsung (SSNLF) and SK Hynix by investing in advanced nodes. These three players dominate the memory market and strive to maintain a supply discipline. So these companies might slow any capacity expansion plans to prevent memory prices from falling beyond a level where manufacturing memory chips are no longer profitable.
On the demand front, memory demand has become more secular and strong with the advent of AI (artificial intelligence) and IoT (Internet of Things). Every electronic device—including PCs, smartphones, cars, drones, servers, and wearables—need memory chips, and the memory content per device continues to increase with the need for higher computing performance.
Although there's cyclicality in the memory market, secular demand and disciplined supply are reducing the impact of cyclicality and making earnings more stable. Micron CEO Sanjay Mehrotra is confident about the secular demand, and therefore announced the company's first $10 billion stock buyback program in fiscal 2018. In Micron's fiscal 2018 fourth-quarter earnings call, he stated that the company would spend $1.5 billion on buyback in the first quarter and will also be willing to spend more on "opportunistic" buybacks.
Next in this series, we'll see what this buyback means for investors.