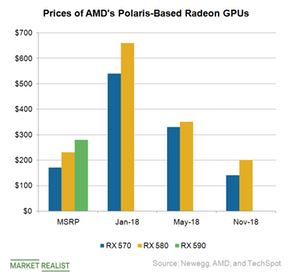 Analyzing AMD's Strategy behind Its Launch of the Radeon RX 590
By Puja Tayal

Nov. 20 2020, Updated 3:47 p.m. ET
AMD's launch timing of the Radeon RX 590
Advanced Micro Devices (AMD) launched its Polaris-refreshed Radeon 590 GPU (graphics processing unit) on November 21 to tap the gaming market. The launch comes at a time when the channel is facing excess midrange GPU inventory and rival NVIDIA (NVDA) has halted shipments of its midrange GPUs to give the channel time to clear excess inventory. Moreover, the RX590 launch comes just in time for Black Friday sales, indicating that AMD is looking to tap holiday sales to boost graphics revenue from gaming.
Article continues below advertisement
AMD's pricing strategy
As AMD has failed to beat NVIDIA in the high-end gaming GPU segment, it is looking to increase its share in the midrange GPU segment. AMD priced the RX 590 GPU at $280 to tap the market between NVIDIA's GTX 1060 (priced at $250) and the GTX 1070 (priced at $370). VentureBeat stated that the combined cost of AMD's RX 590 GPU and the 1080p Freesync monitor is $500, whereas NVIDIA offers similar gaming performance at $600–$650.
As AMD launched a Polaris refresh, prices of older Polaris GPUs—the RX 580 and 570—fell. Tom's Hardware reported that ASRock and PowerColor are selling 4GB RX 570 GPUs for $140 on Newegg. AMD is seeking to boost its gaming GPU sales by reducing the price of older gaming GPUs and launching new GPUs.
Was RX 590 a reactive decision?
Although rumor mills have been speculating about the RX 590 GPU, the launch was not part of AMD's GPU roadmap. The RX 590 looks more like a reaction to NVIDIA's new Turing GPU and the crypto bubble burst. Supporting this statement is the fact that AMD has split the manufacturing of its new GPU between Global Foundries' 12nm (nanometer) node and Samsung's (SSNLF) 11nm node, according to TechPowerUp. AMD, which generally uses a single foundry for identical cards, is using two foundries, as Global Foundries is already tied up with orders for 12nm Ryzen processors and cannot handle last-minute orders. AMD also plans to launch its next-generation GPUs in 2019 and 2020, which we'll look at next.
Check out all the data we have added to our quote pages. Now you can get a valuation snapshot, earnings and revenue estimates, and historical data as well as dividend info. Take a look!