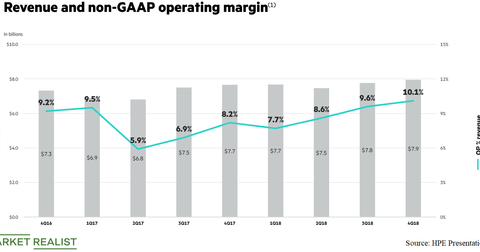 A Look at HPE's Expanding Profit Margins
By Adam Rogers

Dec. 5 2018, Updated 12:50 p.m. ET
Operating margin expanded to 10.1%
In this series, we've seen that Hewlett Packard Enterprise (HPE) increased its sales by 3.7% to $7.9 billion in the fourth quarter of fiscal 2018. Comparatively, HPE's operating margin expanded from 9.2% to 10.1% YoY (year-over-year).
HPE also managed to improve its bottom line by 55% YoY from $0.29 to $0.45. This improvement was made possible by HPE's high operating leverage. The company's operating leverage stands at 8.09x. Comparatively, the operating leverages of its peers Cisco Systems (CSCO), IBM (IBM), and Juniper Networks (JNPR) were 1.44x, 1.06x, and -4.05x, respectively, in their current fiscal years.
Article continues below advertisement
Earnings rose 60% in fiscal 2018
HPE's earnings rose 63% in fiscal 2018 compared to its revenue growth of 7%. The company's generally accepted accounting principles operating margin is expected to expand from 9% in 2018 to 9.4% in 2019 and 9.8% in 2020.
HPE is likely to battle component cost dynamics, a competitive cost environment, and stranded costs to improve its profitability in the short term. Further, HPE has also undertaken several spin-offs and acquisitions over the last few quarters, which have affected its profitability.
To counter these headwinds, HPE announced a $1.5 billion cost savings program known as HPE Next last year. HPE has focused on reducing platforms and stock keeping units to cut costs. It has also reduced its product platform from 26 to ten. Its number of manufacturing locations reduced from 17 to ten in fiscal 2018 and could drop to seven by the end of fiscal 2019.