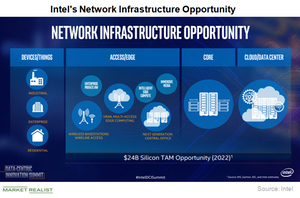 5G Means a Lot More than Just Modems to Intel
By Puja Tayal

Updated
Intel accelerates its 5G launch
So far, we've learned that Intel (INTC) has delayed its 10 nm (nanometer) products to 2019. Unexpected demand in the PC and data center markets has constrained Intel's manufacturing capacity, affecting its Internet of Things revenue.
However, one area in which the company is accelerating growth is in 5G technology, where Qualcomm (QCOM) is leading.
Intel has advanced the release of its 5G modem launch by six months, and it now plans to launch its second-generation XMM 8160 5G modem in the second half of 2019, with its 5G devices expected to hit the shelves by early 2020. (Intel didn't launch its first-generation 8060 5G modem commercially.) Qualcomm has already launched its X50 5G modems, with its first 5G devices expected to hit the market in early 2019.
Intel's 8160 5G modem will support both 4G and 5G and will deliver speeds of up to 6 gigabits per second, 120 times faster than existing phones. The company will make the modem available for various devices, including PCs, phones, and home routers.
Article continues below advertisement
Rumors: Apple to use Intel's 5G modems
Fast Company reported a rumor that Apple (AAPL) would be using Intel's 5G modems in its 2020 iPhones. Unlike other smartphone makers, who plan to launch 5G-enabled devices in 2019, Apple plans to adopt the technology in 2020, as it would take at least a year to make 5G desirable to consumers.
The financial impact of 5G technology
If we look at Intel's modem business, 5G modems won't have much impact on the company's financials. The company reports its modem revenue under adjacencies of its client computing business. However, the network infrastructure opportunity presented by 5G will likely have a far-reaching impact on Intel's earnings.
At the NASDAQ 39th Investor Conference, Intel's chief engineering officer, Murthy Renduchintala, explained that 5G infrastructure requires software-defined network virtualization. In terms of network virtualization, everything from computing to storage to data distribution is embedded in the network fabric. Intel's business revolves around processing, storing, and distributing data, presenting it with opportunities across a variety of different businesses, including memory, the data center, and field programmable gate arrays.
At Intel's Data-Centric Innovation Summit in August, the general manager of Intel's Communications Infrastructure segment, Dan Rodriguez, stated that network infrastructure would present a total addressable opportunity of $24 billion for Intel by 2022.