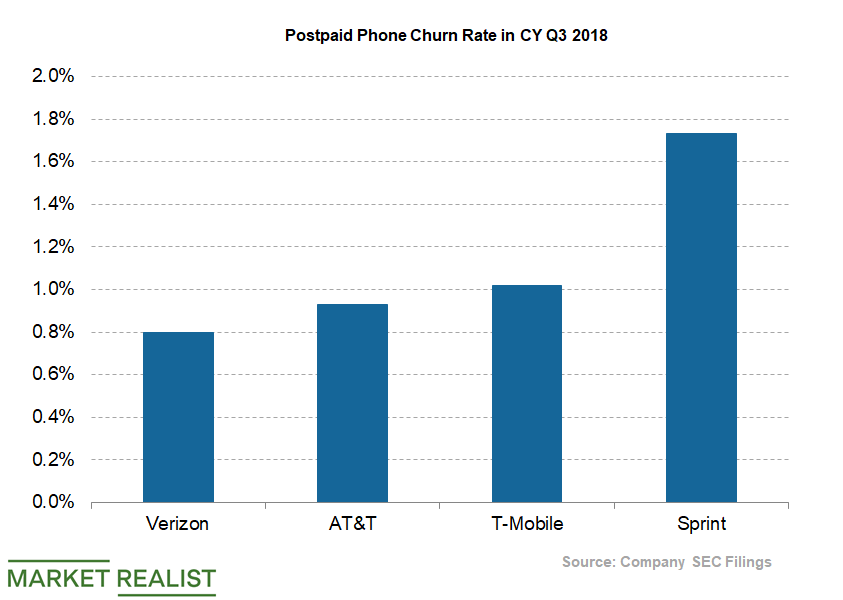 Why T-Mobile's Postpaid Phone Churn Rate Improved in Q3 2018
T-Mobile's postpaid phone churn rate in Q3 2018
Previously, we looked at T-Mobile's (TMUS) postpaid customer net additions in the third quarter. Let's now discuss T-Mobile's customer retention metric, its churn rate. The company's postpaid phone churn rate continued to decline YoY (year-over-year) in the third quarter, falling to 1.02% from 1.23%, primarily driven by increased subscriber satisfaction and loyalty thanks to ongoing network quality and customer service improvements. A lower churn rate reduces mobile operators' customer acquisition costs, expanding their operating margins.
Article continues below advertisement
Peer comparison
In the third quarter, Verizon (VZ) continued to have the best postpaid phone churn rate among the top four major US mobile carriers, with a rate of 0.80%. AT&T (T) had a postpaid churn rate of 0.93%. Meanwhile, Sprint's (S) postpaid churn rate was 1.73% in the second quarter of fiscal 2018 (ended in September).