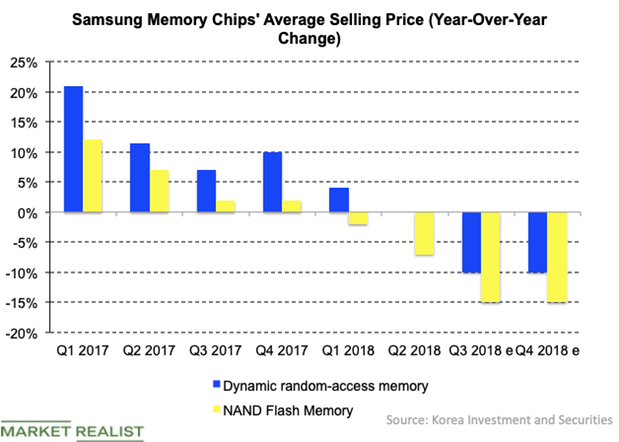 Samsung Sees Another Record Quarter, but Worries Are Creeping Up
Samsung beat earnings and revenue estimates
South Korean electronics giant Samsung (SSNLF) reported its third-quarter earnings results on October 31.
The global smartphone leader clocked a third-quarter net profit of 13.15 trillion South Korean won ($11.5 billion), another record, rising 18% from the same quarter last year. Analysts had been expecting net income of 12.9 trillion won.
Samsung generated revenue of 65.5 trillion won ($57.3 billion) in the third quarter compared to 62 trillion won a year earlier, beating analysts' estimate of 64.9 trillion won. The company's operating profit rose to 17.57 trillion won ($15.4 billion) in the quarter, climbing 21% from 14.53 trillion won in the same quarter last year.
Article continues below advertisement
Samsung's mobile division and falling chip prices worry investors
Samsung said that its earnings were driven by robust sales in memory chips and displays. The company has profited in the past year or so from rising demand for memory chips, which have been getting more expensive. However, the prices of memory chips have already begun falling.
Another concern for the conglomerate is its deteriorating smartphone business. Samsung said its revenue from smartphones fell 10% YoY to 24.91 trillion won ($21.8 billion) in the third quarter. Its smartphone division's margins narrowed, causing profits from the segment to plummet 33%. The increasing costs of smartphones are causing consumers to hold on to their phones longer.