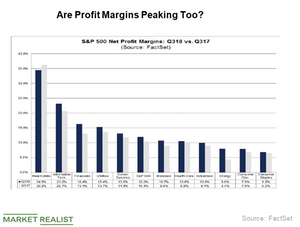 Is Down the Only Way to Go for US Equity Markets?
By Anuradha Garg

Aug. 18 2019, Updated 4:13 p.m. ET
US equity momentum stalling
Investors have been worried about the coming earnings cliff, and rightly so. For most of this year, US equities have outperformed the rest of the world's. That momentum, however, seems to be stalling. According to FactSet, the earnings growth is expected to cool off from 23% this year to 10.3% in 2019 and 9.5% in 2020. Also, the S&P 500's (SPY) net profit margin reached 12.0% in Q3 2018. The margin expanded by 1.6 percentage points year-over-year and marked a record since FactSet started recording this data in 2008.
Article continues below advertisement
Margins to come off
As pressure ramps up with higher raw material, energy, and labor costs and the impact of tariffs, margins are expected to come off—especially as the sugar high of the tax impact could wear off going into 2019. Several companies, including Caterpillar (CAT), Ford (F), and 3M (MMM), have cited trade tariffs and China's slowdown as headwinds for next year, in addition to margin pressure this year. US chipmakers (SMH) are impacted by trade tariffs because most of their supply chain is in China. Advanced Micro Devices (AMD) and Texas Instruments (TXN) have issued weaker fourth-quarter guidance.
Investors not rewarding earnings beats
Another interesting observation from the latest earnings season was that investors have not rewarded companies (IVV) that beat market expectations. According to FactSet, "Companies that have reported positive earnings surprises for Q3 2018 have seen no average price change (0.0%) two days before the earnings release through two days after the earnings."
This percentage is below the last five-year average price increase of 1.0%. Also, companies missing estimates have been more severely punished, seeing their price decline by 3.2% against the five-year average price decline of 2.5%. These movements imply that earnings surprises may not be valued much. Also, the focus has now shifted to companies' (DIA) outlooks for 2019 and beyond, a behavior usually associated with a coming downturn.
As market volatility increases, what can investors do to protect their portfolio? We'll discuss strategies in more detail in the next part of this series.