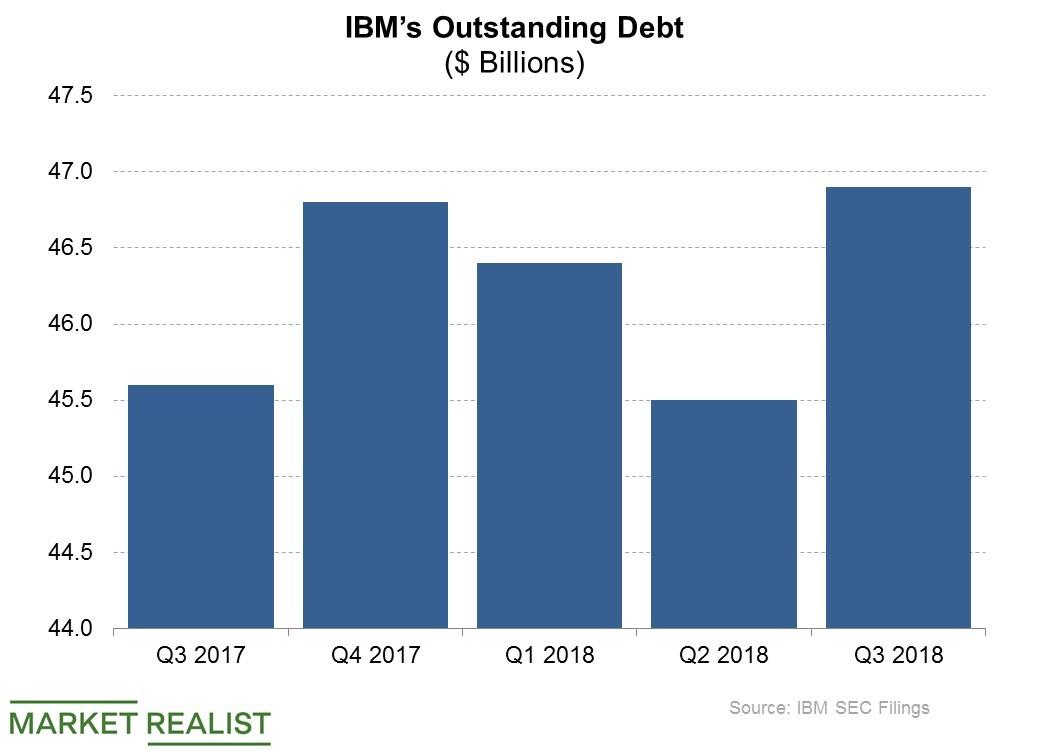 How the Red Hat Deal Will Affect IBM's Repurchase Program
IBM is holding $46.9 billion in debt
The deal to acquire Red Hat (RHT) is expected to interfere with IBM's (IBM) share repurchase program. IBM is financing the $34 billion Red Hat deal through a combination of cash on hand and loans. The company is borrowing ~$20 billion toward financing the deal. It closed the latest quarter with $14.7 billion in cash and $46.9 billion in debt.
Article continues below advertisement
Debt is set to rise
Since IBM's debt is set to rise as a result of its borrowing to finance the Red Hat deal, the company is taking measures to ensure that its debt doesn't grow to levels that could hurt its credit rating. The measures IBM has taken to close the Red Hat acquisition while maintaining a strong credit rating include pausing its share repurchase program for a few years. Specifically, IBM intends to put its share repurchase program on hold in 2020 and 2021.
$2.1 billion returned to shareholders
At the moment, IBM has lined up a $5.4 billion share repurchase program, which consists of $4.0 billion in fresh authorizations and $1.4 billion remaining under a previous authorization.
IBM returned $2.1 billion to its shareholders in the third quarter. This return consisted of $1.4 billion in dividends and more than $600 billion in share repurchases. Microsoft (MSFT) bought back $3.7 billion worth of its shares in the third quarter. Intel (INTC) returned $2.7 billion to its shareholders through share repurchases in the quarter. Qualcomm (QCOM) is planning to return as much as $30 billion to its shareholders in the form of share repurchases.