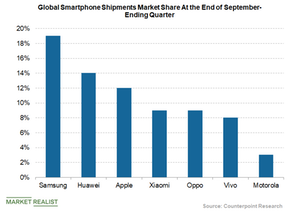 How Apple Is Positioned in the Global Smartphone Market
Apple's revenue comes mostly from the iPhone
Apple (AAPL) relies on iPhone sales for most of its revenue. In the fourth quarter of fiscal 2018, 59.1% of the company's overall revenue came from its iPhone sales. However, the iPhone maker is facing headwinds in its core iPhone business, as is evident in its soft iPhone unit sales expectations.
According to a report from Counterpoint Research, Samsung (SSNLF) and Huawei beat Apple to become the world's first- and second-largest smartphone companies by unit shipments at the end of the third quarter.
Article continues below advertisement
Apple is the third-largest smartphone company
Apple is the third-largest smartphone company in terms of shipments and has a 12% market share in the global smartphone shipment space—higher than the 11% market share it reported in the third quarter of fiscal 2018. Samsung has a 19% market share, while China's Huawei has a 14% market share.
China-based Huawei nabbed the second-place spot from Apple in the second quarter amid a tightening global smartphone market. While Huawei shipped 54.2 million smartphones in the quarter, Apple's shipments totaled 41.3 million in the same period. South Korean consumer electronics giant Samsung remained in the top spot with 71.5 million shipments.
Though Huawei's shipments fell sequentially from 54.2 million to 52 million units in the third quarter, it remained in second place, according to a report. Apple stayed in third place and shipped 46.9 million units in its fourth quarter of fiscal 2018, higher than the 41.3 million units it shipped in the third quarter of fiscal 2018.
However, Apple's unit shipments of 46.9 million were lower than analysts' expectation of 47.5 million units. Its unit shipments were also flat year-over-year compared to 46.7 million. Apple won't be reporting its iPhone unit sales, which are key to measuring its revenue, in the next quarter.
Huawei's rising market share could be threatening Apple's iPhone business, which isn't doing well amid soft demand. The US-China trade war could also raise the cost of Apple's iPhones.