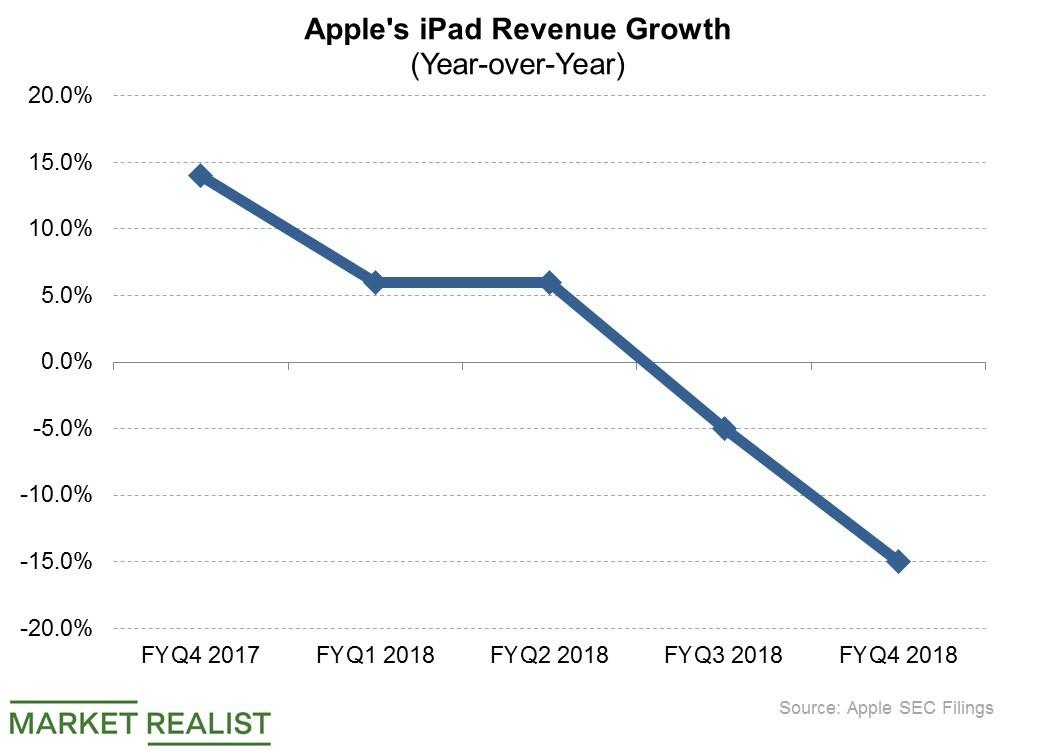 How Apple Is Performing in the Slowing Tablet Market
iPad revenue down 15%
The global tablet device market has been shrinking for several quarters, and the third quarter was no exception. Tablet shipments were down 10% YoY (year-over-year) to 39.7 million units in the quarter.
Apple (AAPL), one of the world's top tablet companies, has borne the brunt of the shrinking tablet market. The company's iPad tablet device's unit sales fell 6.0% YoY, and revenue from its iPad business fell 15% YoY in its fourth quarter of fiscal 2018. The falls followed a 5.0% YoY fall in its iPad revenue in its third quarter of fiscal 2018.
Article continues below advertisement
New iPads launched
Apple has recently taken steps to try to drive growth in its tablet business. Last month, the company launched new iPad models that it started shipping this month.
In an attempt to set its new iPad products apart from rival devices such as Google's (GOOGL) Pixel Slate and Microsoft's (MSFT) Surface, Apple's latest flagship iPad Pro became the first tablet device to feature facial-recognition technology.
Apple's new iPads come at higher prices than their predecessors, suggesting that Apple may be trying to replicate the strategy that has helped it keep its iPhone revenue growing. Since Apple is selling more expensive iPhones lately, revenue from its business has been rising even though unit shipments have stagnated.
A 24.4% share of the global market
Apple captured 24.4% of the global tablet device market in the third quarter, beating out Samsung's (SSNLF) 13.4% market share and Huawei's 9.5% market share, according to Strategy Analytics. Amazon (AMZN) picked up 5.6% of the global tablet market in the period.
Apple, Samsung, and Amazon are expected to hold a combined 61% share of the global tablet market in terms of unit shipments.