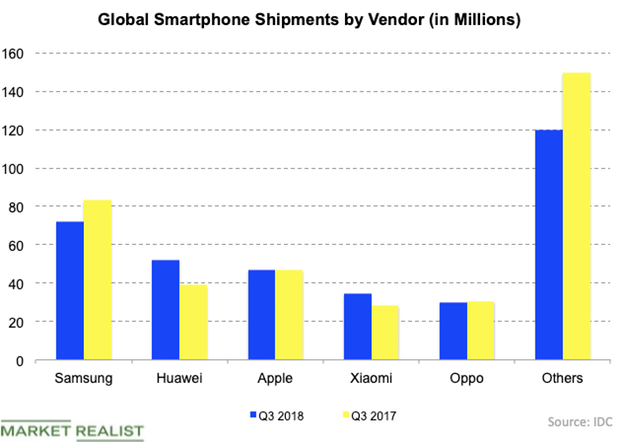 Global Smartphone Market Continues to Decline
The smartphone market fell by 6% in the third quarter
Global smartphone growth continues to be sluggish as customers balk at higher smartphone prices and hold on to their smartphones for longer. According to a recent report by research firm IDC, global smartphone shipments during the third quarter came in at 355.2 million, falling 6.0% from the same quarter last year. According to IDC, this represented the fourth consecutive quarter of YoY decline in smartphone sales. Also, the biggest smartphone market in the world, China, continued to decline.
However, Chinese vendors Huawei and Xiaomi continued to see robust growth in the quarter thanks to their expansion in other regions. Their shipments grew 32.9% and 21.2%, respectively. Huawei held the second spot ahead of Apple, which continued to see sluggish growth.
Article continues below advertisement
Samsung and Apple continue to face challenges
Samsung (SSNLF), which is still the market leader, saw a decline of 13.4% YoY in the third quarter to 72.3 million phones. The South Korean giant had a market share of 20.3%.
While Apple's ASP may be much higher than its rivals, Apple now holds the third spot in the smartphone market with Xiaomi gaining on it. Apple's market share is falling in China and is negligible in India, the top two smartphone markets in the world.
Apple will likely be turning to its fast-growing Services segment for growth. Analysts predict that the segment will be Apple's main growth driver by 2020.