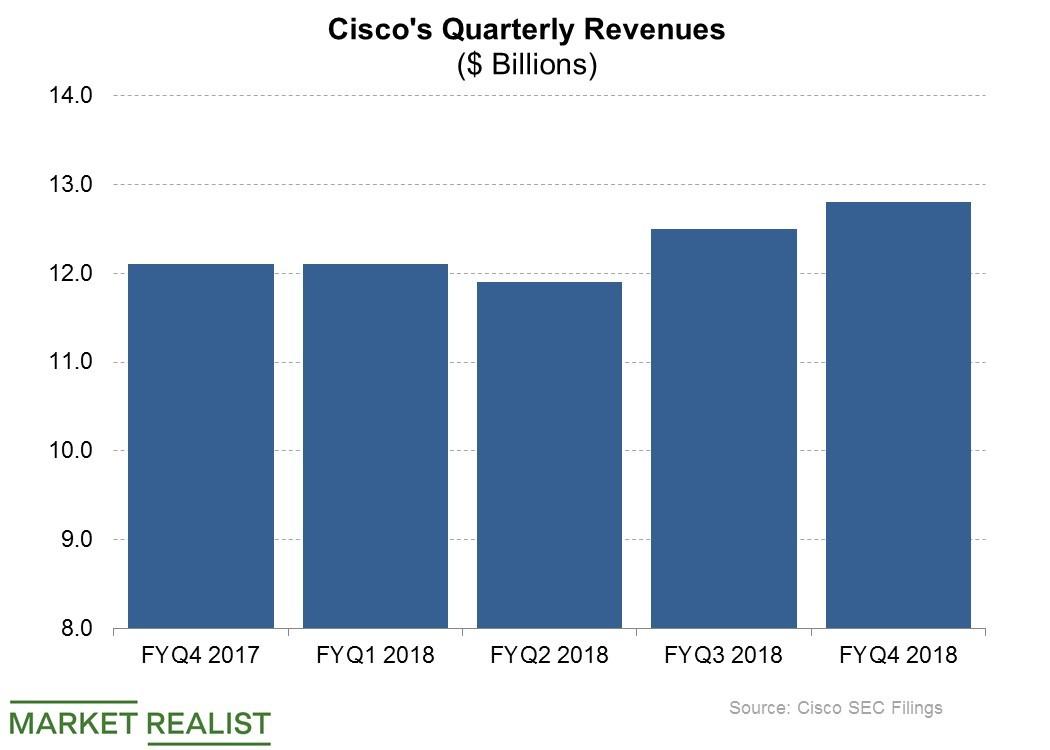 Cisco's Hope after the Midterm Elections
By Ruchi Gupta

Nov. 9 2018, Updated 2:05 p.m. ET
Trade dispute resolution
Cisco Systems (CSCO) hopes the conclusion of the recent US midterm elections will create room for healthy discussions with China on trade. The United States and China have targeted each other with import tariffs in recent months, complicating the business environment for many companies involved in cross-border trade.
President Donald Trump suggested last month that it was possible the United States and China would reach a deal on trade.
Article continues below advertisement
Passing costs on to customers
Cisco has manufacturing operations in more than a dozen countries, including China. As a result, the company is affected by tariffs imposed on Chinese goods entering the United States.
To cope with rising operating expenses due to the tariffs, Cisco has been forced to hike the prices of its products as a way to pass the additional costs on to customers. But this response carries the risk of slowing sales, as some customers may decide to delay their purchases if they can't bear the higher product prices.
Although hiking product prices in response to trade tariffs poses the risk of slowing sales, some companies have succeeded with the strategy. American home appliance maker Whirlpool (WHR), for instance, posted higher third-quarter profits than the consensus estimate after it raised the prices of its products to counter the trade tariffs.
Cisco's top line rose 5.9%
Cisco's revenue rose 5.9% YoY (year-over-year) to $12.8 billion in the fourth quarter of fiscal 2018, which ended in July. At Arista Networks (ANET), revenue rose 28.3% YoY in the comparable quarter. Revenue fell 8.0% YoY at Juniper Networks (JNPR), 5.5% YoY at Nokia (NOK), and 1.0% YoY at Ericsson (ERIC) in the period comparable to Cisco's fourth quarter of fiscal 2018.